271 Russian athletes cleared for Rio Games – president of national Olympic committee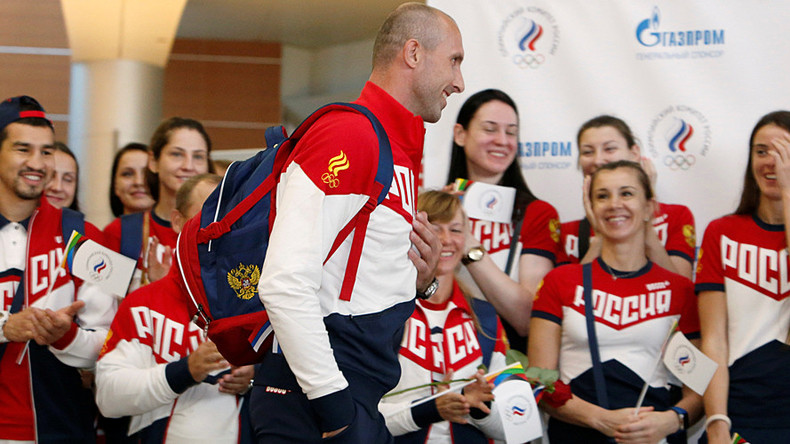 The head of Russia's Olympic Committee, Aleksandr Zhukov told reporters on Thursday that 271 Russian athletes have been cleared to compete at the summer Olympics in Rio.
"Today we got good news for Russian fans. I want to announce that the majority of our teams will participate at the Olympics in full," the official said. "As of yet we have clearance for 271 athletes," Zhukov added in his statement.
The relevant documents have been received from the International Olympic Committee (IOC), he told TASS.
A "final count" is required to release the exact number, Zhukov said. Earlier he had expressed hopes that up to 280 Russian athletes would be cleared to compete in the Games, which open on Friday.
The Russian track and field team will be completely banned from the Olympic Games, however. Only one Russian athlete in that discipline, runner Darya Klishnina will be allowed to compete. However due to the team's block she will do so under the neutral IOC flag.
At the press conference on Tuesday Zhukov once again expressed his frustration over the blanket ban.
Russia's track and field team "did not include any athletes who at some point were punished for doping use. Unfortunately the International Athletics Federation decided to exclude our athletes from competitions, including the Olympics," Zhukov said.
"The reason for this was one condition, namely that our athletes had to live and train abroad for three years. In our view, it's an absolute discrimination This request was made a month before the Games and could have not been fulfilled," Russia's Olympic Committee chief added.
Last month, the IOC decided not to ban the entire Russian team from taking part in the Rio Olympics following a doping scandal.
International sports federations were tasked to rule on whether to clear Russian athletes for participation, before a panel of IOC officials gave a final verdict.
The panel's final ruling on the entry of Russian athletes into the upcoming Olympics will be published later in the day, IOC President Thomas Bach told the media at a Thursday press conference in Rio.
While making their decision, the Olympic officials "had to follow the rules of justice," Bach said, adding that "justice has to be independent from politics, and you cannot answer to a violation of a law by another violation of a law."
"This is a situation we do not want to happen ever again in sport, and therefore the IOC requested a full review of anti-doping system, and we are very happy that WADA [World Anti-Doping Agency] agrees with this request," the IOC president said, adding that the body "will work closely with WADA to make the anti-doping system worldwide more robust and more efficient."