Frampton is 2-time world champ after stunning win over Santa Cruz
Published time: 31 Jul, 2016 14:07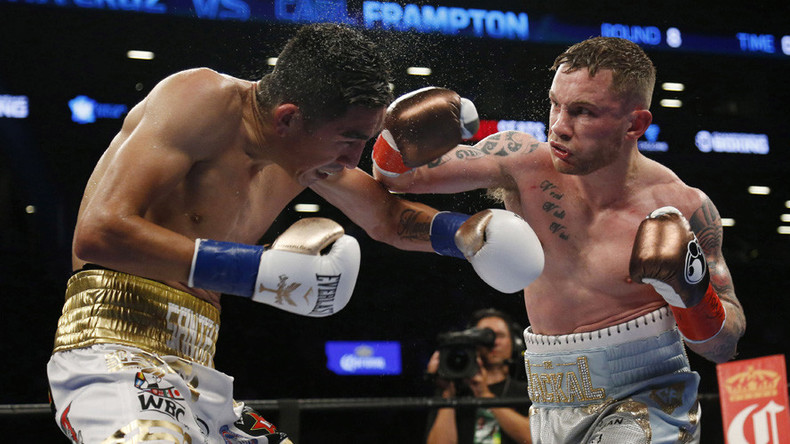 Northern Irish boxer Carl Frampton won the WBA Super World featherweight championship with a scintillating but hard-fought points win to upset Mexican champion Leo Santa Cruz in New York to remain unbeaten.
Before the fight, Frampton tweeted he was 'hoping to make history'. That is what he did in a throwback bout that ebbed and flowed at the Barclays Center, Brooklyn, on Saturday night.
Both fighters exchanged hard power shots and displayed exactly why the are both at elite level with sublime boxing skill but at the final bell it was counter-punching Frampton who won with scores of 116-112, 117-111 and 114-114 to take a majority decision and the championship belt back to the Emerald Isle.
With the win, Frampton (23-0, 14 KOs) becomes only the second boxer from Ireland to capture world belts at two different weight classes after Steve Collins, who won world crowns at middleweight and super middleweight in the 1990s.
"It's a dream come true," Frampton said afterwards. "I had the dream of winning a world title and I won it, but I never thought I'd win in two divisions. It was a tough fight, I wanted it to be a tough fight because I wanted a fight the people could remember."
"I won the fight because I didn't lose control. I earned his respect early in the fight with my distance control and hard punching. I would love to take this man to Belfast for a rematch and show the people there what a great fighter he is."
There was an Irish rebel feel amongst the crowd. Around 5 percent of the New York City's population is made up of Irish Americans and the partisan crowd of just over 9,000 in the Barclays Center cheered Frampton from the moment he appeared to begin his ring walk.
Among his supporters was former world golf No.1 Rory McIlroy, who was ringside in Brooklyn to see his fellow countryman defy the odds.
Frampton, nicknamed "The Jackal", boxed at distance against the gangly Santa Cruz and held his composure against constant pressure from the former three-weight world champion. His measured, precise punching proved to be the difference among the judges, but the fight was close. Some believed that the 114-114 scorecard from Italian Guido Cavalieri best summed up the night's action.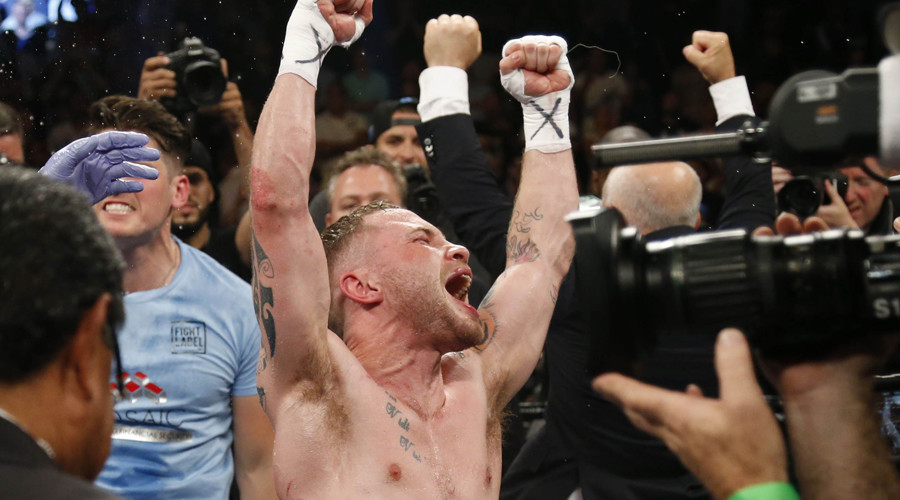 Nevertheless, at the end of the fight Frampton was visibly elated when announcer Jimmy Lennon Jr. called out the words "and the new" to signal the Belfast battler had won the belt previously held by his manager and former professional fighter Barry McGuigan. McGuigan and son Shane, who is Frampton's coach, leapt into the air and embraced their charge when the result was read out.
The result was heartbreaking for the taller Santa Cruz, whose father Jose had made special efforts to be in his corner at the Barclays Center despite fighting his own battle against skin cancer. He now moves to 32-1-1 with 18 KOs after losing his title and unbeaten record.
"My dad said he wanted me to box, to keep him on the outside. I wanted to go inside and box. I was using the distance stuff more but it wasn't working," he told reporters at the post-fight press conference.
Promoter Lou DiBella told reporters that the two fighters would now be "forever linked" after sharing an electric featherweight battle.
After unifying super bantamweight belts and then moving up in weight to defeat one of the super featherweight divisions most respected fighters in just five months, Frampton could even be on course to bag 'fighter of the year' honors from boxing bible Ring magazine.