Spectator attempts to snatch 'cursed' Olympic torch from Brazilian relay (VIDEO)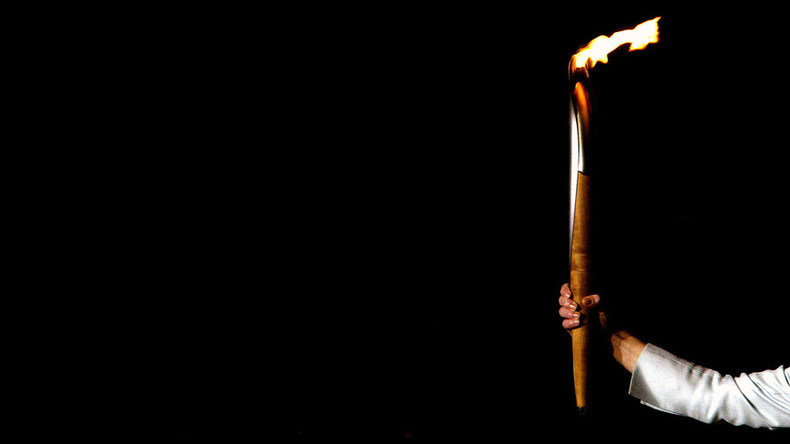 A man made a desperate lunge for the Olympic torch as it was being carried on a relay through Sao Paulo on Saturday. Lacking the grace of an Olympic gymnast, the man's ill-timed attempt was quickly foiled by security officials.
The torch was believed to have been carried by hockey player Patricia de Albuquerque when the unidentified man made his attempt to grab it.
Dressed in black, he can be seen attempting to break through the human barricade of at least 10 security officials surrounding the torch bearer. The would-be torch-grabber is quickly dragged to the ground before police take him away and arrest him.
READ MORE: Blaze of glory? Olympic torch bearer falls flat while running for Rio (VIDEO)
One security official was injured in the failed attempt to seize the torch.
Brazilians have called the Olympic torch "cursed" online after several controversial incidents during its relay. Last month a jaguar used in a torch relay ceremony was shot dead after escaping and only a week ago a torch bearer was attacked by a man with a fire extinguisher.
The torch is due to reach Rio de Janeiro's Maracanã Stadium on August 5 where it will kick-off an Olympics that has been steeped in controversy since its conception. Brazil is currently experiencing a recession and a recent poll revealed that 63 percent of citizens surveyed believe the games will bring more harm than good.
Several athletes have pulled out of the games due to concerns over the Zika virus. The World Health Organization rejected a call to move the sporting event after over 100 leading scientists advised them it would be "unethical" not to due to the virus.
READ MORE: World no. 1 golfer Jason Day withdraws from Rio Olympics over Zika virus fears
You can share this story on social media: