'Track-and-field burial': Russia's Isinbayeva slams CAS for upholding ban, pins hopes on IOC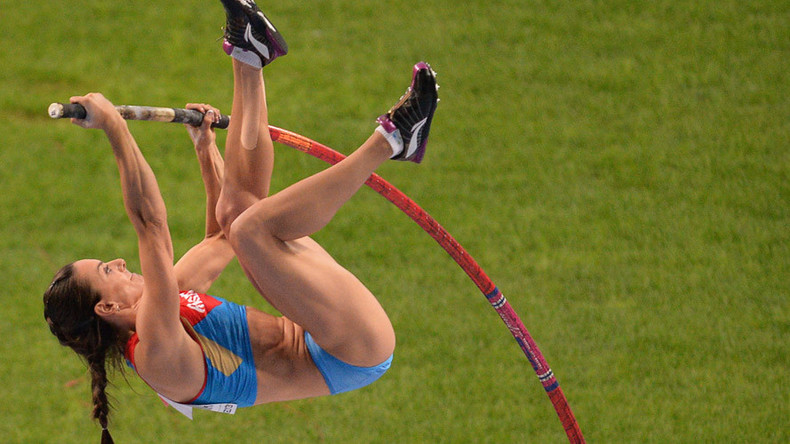 Following the Russian team's loss of an appeal to compete at the upcoming Olympics in Rio, all hopes are being placed with the International Olympic Committee, star pole vaulter Yelena Isinbayeva said, calling upholding the ban a "track-and-field burial."
A total of 68 Russian athletes saw their appeals rejected by the Court of Arbitration for Sport, further contributing to calls for the IOC to implement a blanket ban on Russia competing at next month's Games in Brazil.

READ MORE:Russian athletes to remain banned from Rio - Court of Arbitration for Sport
Isinbayeva, the two-time Olympic champion, now says "it is the IOC's privilege to make its own decision. They appear to have given a definite 'no', but the IOC can still reach a decision on separate athletes," she said, adding that the chief Thomas Bach will give with the final verdict.
But she also added to TASS that the whole case reeks of foul intentions: "Thanks, everyone, for burying track-and-field. This is nothing but political rigging."
When the athlete went on Instagram, she took a markedly darker tone.
"Let the 'clean' athletes breathe a sigh of relief and win their pseudo-gold medals in our absence. People always feared strength."
Isinbayeva herself has passed dozens of tests and came out clean each time. She represented Russia at the earlier hearing, where the team's fate was decided. It was there that she asked who would represent her interests as a clean athlete, according to the Russian Olympic Committee head Aleksandr Zhukov, who believes it to be a legitimate question.