Isinbayeva: IAAF is 'under orders' to keep Russia out of Olympics
Published time: 17 Jul, 2016 18:03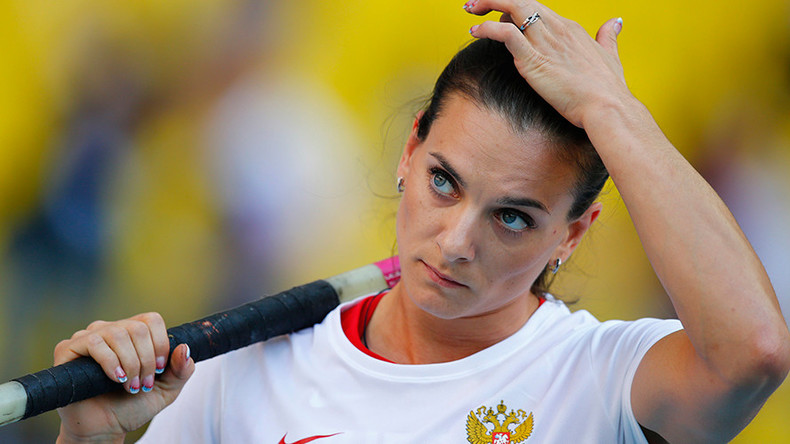 Star Russian pole vaulter Yelena Isinbayeva has blasted the International Association of Athletics Federations (IAAF), claiming the governing body is "under orders" to prevent her country's athletes from competing at the Rio 2016 Olympic Games.
The two-time Olympic champion took to Instagram on Sunday to vent her frustration, after the IAAF's decision to reject applications from Russian athletes bidding to take part in the event.
"Athletes from other countries are counting the days before the opening of the Olympics, and we are waiting for the Sports Arbitration Court decision," she wrote.
"Where the world athletics is rolling, when this mess will be over – no one knows the answer.
READ MORE: World champ Isinbayeva & other Russian athletes barred from Olympic Games
"For the first time, in 20 years of my professional career, I have to fight in the court for my right to participate in the Olympics.
"It feels like the IAAF was ordered to prevent [Russia's participation] at any costs. Alas. And I met the dawn today with thoughts about the upcoming trial."
Long-jumper Darya Klishina, who trains outside Russia, is the only Russian track and field athlete who has been cleared to compete in Rio, while World Anti-Doping Agency (WADA) informant Yulia Stepanova is waiting to hear from the International Olympic Committee (IOC) about her case.
READ MORE: Long-jumper Klishina blasts critics after clearance to compete in Rio
The Court of Arbitration for Sport (CAS) in Switzerland has received a lawsuit from the Russian Olympic Committee against the IAAF in defense of 68 track and field athletes hoping to compete in Rio.
The hearings are set to take place on July 19, with a verdict due two days later.
On Saturday, Reuters released a leaked draft letter addressed to the IOC in which several anti-doping agencies, including those of the United States and Canada, ask for a complete ban on Russia competing at the Rio Olympics.
WADA is set to release its report into doping allegations at the 2014 Games in Sochi on Monday.
Led by Canadian lawyer Richard McLaren, it's understood the report will claim the presence of state-sponsored doping in Russia.