Iceland gains twelve positions in FIFA Ranking; Russia falls close to lowest-ever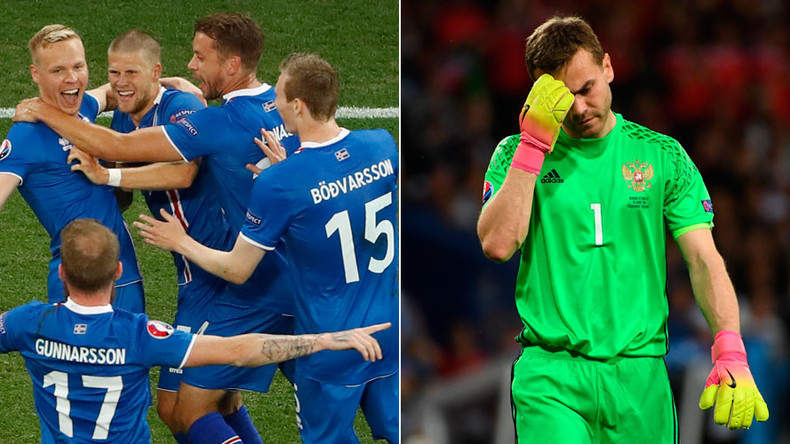 Iceland and Russia make a huge contrast following an underwhelming Euro 2016 campaign for Russia, which has fallen to 38th place in the FIFA rankings with a total of 728 points, while Icelanders jumped to their best position ever.
The Russian team had a tournament to forget in France this summer, with a late equalizer against England ending in a 1-1 draw being the only positive.
On the contrary, Iceland was fan favorites with a breakthrough performance that brought them to the quarterfinals.
READ MORE: Russia draws against England in Euro 2016 opener
Russia was disappointingly beaten 2-1 and 3-0 by Slovakia and Wales in its remaining games, which saw it finish at the bottom of Group B and be eliminated from the competition at the first time of asking.
The poor showing saw coach Leonid Slutsky part ways with the national team.
READ MORE: 'We agreed that we are sh*t': Russia's ex-coach recalls Euro 2016 fiasco
Russia was ranked 29th previously, with the team now finding themselves one place behind Albania and one above Iran after the drop to 38th.
Russia's lowest-ever position in the world rankings was 39th back in December 1998, with the national team low in confidence ahead of hosting the World Cup in two years' time.
In contrast, Iceland leaped to the 22nd in FIFA Ranking, which is the highest throughout the history of the island country.
They managed to draw the future Champions Portugal 1:1 in group stage and even eliminate the potential medal contenders England 2:1 in what was an epic first-half comeback in the round of 16.
READ MORE: Iceland stuns England 2-1 to reach Euro 2016 quarter-finals
Iceland's Swedish coach Lars Lagerback brought the team up from 108 FIFA ranking position when he took the team over in 2011, which he is now widely credited for.
The national team got an epic home welcome reception after their Euro 2016 participation.
Russia's next challenge will be participating in the Confederations Cup in June 2017, where a much-improved showing will be needed before the global showcase on home soil in 2018.
The top five teams in the world rankings remain unchanged, with defeated Copa America finalists Argentina still topping the list ahead of Belgium, Colombia, Germany and Chile.
Euro 2016 winner Portugal jumped from eighth place to sixth, while France moved up to seventh.
Other nations to climb the list include Wales and Iceland, who have jumped to 11th and 22nd respectively after valiant efforts at Euro 2016.
Significant drops could be seen in Austria and Netherlands, which both fall more than 10 places each to finish in 21st and 26th respectively.
FIFA World Rankings top ten
Argentina - 1585 pts
Belgium - 1401 pts
Colombia - 1331 pts
Germany - 1319 pts
Chile - 1316pts
Portugal - 1266 pts
France - 1189 pts
Spain - 1165 pts
Brazil - 1156 pts
Italy - 1155 pts