Singer kicked out of band for adding 'All Lives Matter' to Canadian anthem at MLB All-Star game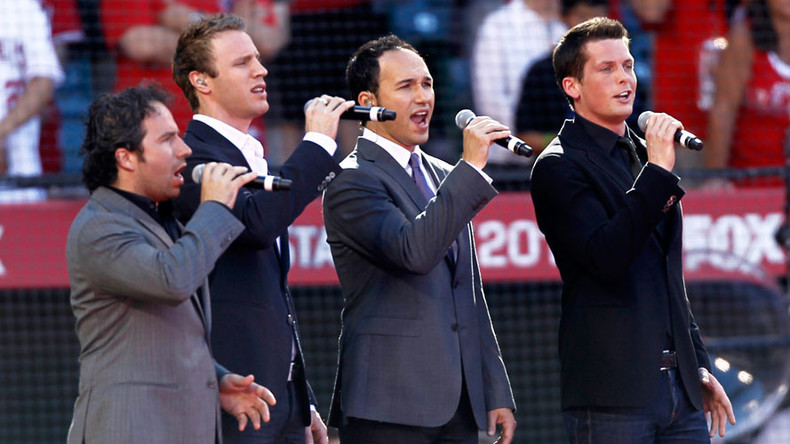 The Canadian quartet The Tenors have issued an apology after a group member held up a sign and changed the words of the country's national anthem, "O Canada," at a Major League Baseball (MLB) All-Star pre-game performance.
Instead of singing, "With glowing hearts we see thee rise, the True North strong and free," Remigio Pereira sang, "We're all brothers and sisters. All lives matter to the great."
Pereira also held up an "All Lives Matter" sign.
The group took to Twitter to apologize for Pereira's actions and confirmed he had been removed from the group "until further notice."
The MLB says it was unaware of Pereira's intention to change the song to include the revised lyrics.
"All Lives Matter" is a controversial phrase. Some think it belittles and is disrespectful of the "Black Lives Matter" movement, which aims to highlight the problems specifically facing black people in America.
Others believe the term "Black Lives Matter" is divisive, and that "All Lives Matter" is more inclusive, arguing that there should be concern for all people victimized by societal ills in the US, such as rampant police brutality.
Pereira was widely criticized on social media, with many users saying it was unacceptable to change the lyrics or politicize a national anthem.
In his defense, the singer posted a statement saying: "Love, peace and harmony for ALL has always been my life's purpose."
"I've been so moved lately by the tragic loss of life and I hoped for a positive statement that would bring us ALL together. ONE LOVE," he wrote.
"That was my singular motivation when I said all lives matter," he added.