Tear gas, water cannon fired outside fan zone during France-Portugal Euro 2016 final (PHOTOS)
Water cannon has been used against protesters gathered outside the fan zone at the foot of the Eiffel Tower. The mob clashed with officers after they shut down the fan zone fearing overcrowding.
Earlier French police fired tear gas to drive back dozens of fans as they tried to enter the 'fan zone.'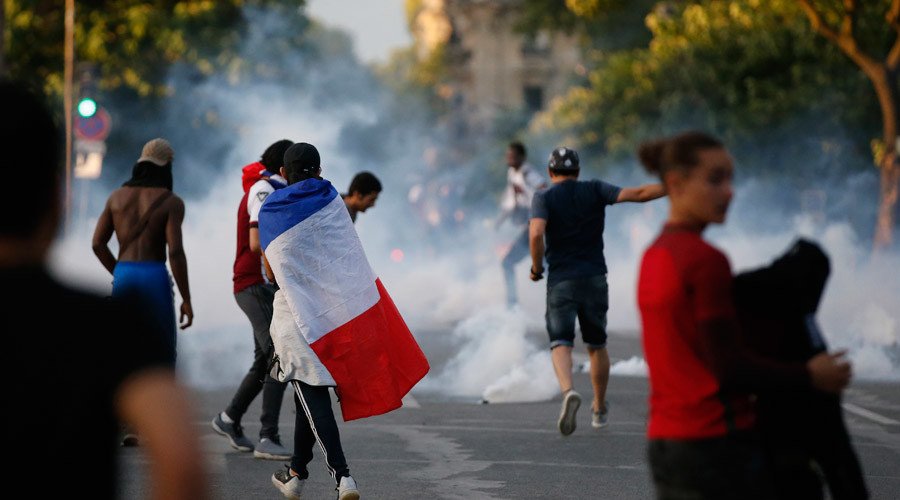 READ MORE: Stampede, panic in Paris fanzone after firecracker let off (VIDEO)
Fans apparently began the standoff with police by throwing smoke grenades, a Periscope video from the scene showed. Officers responded with tear gas and pushed the crowd back.
The standoff between police and protesters went on throughout the entire match. The mob chanted incomprehensible slogans, waving both French and Portuguese flags.
Angry attendees, who had been pushed back from the fan zone, started burning garbage and tossing objects at police. Officers had to deploy water cannon to douse the burning garbage.
Protesters also set several scooters ablaze just outside the fan zone."The fire is being handled," a police source told Reuters.
Smoke was seen rising around the main Parisian landmark from blocks away, as Twitter posts show.
The fan zone, set up for crowds to watch the Euro Championship games on large outdoor screens was closed after reaching its maximum capacity of 90,000 at around 7:00pm local time (5:00pm GMT), an hour before the match began, police said, as reported by Reuters.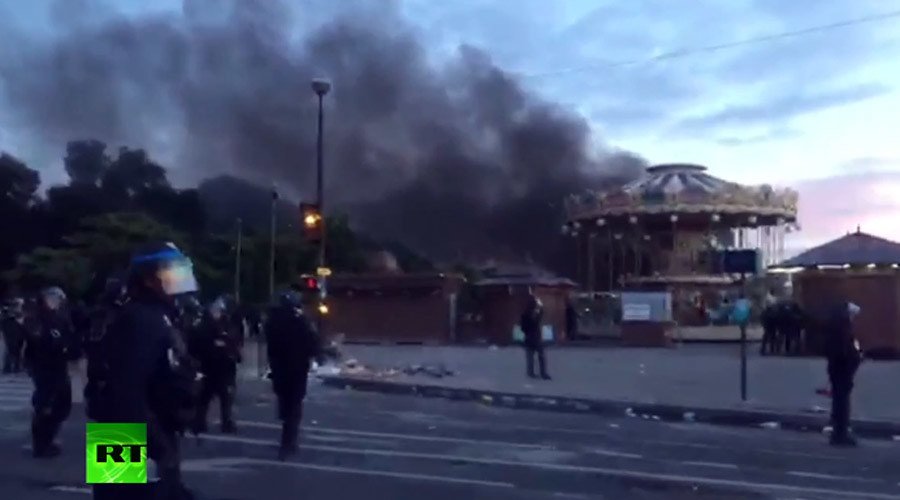 The Eiffel Tower fan zone has already been a hot spot for disturbances during the football championship. On July 2, a stampede marred the Italy-Germany Euro 2016 quarter-final. The panic was said to have been caused by fireworks, which some of the fans mistook for bomb explosions, before they dispersed in different directions.
Euro 2016 initially began with violence and disturbances, with fans clashing throughout the first two weeks of the championship. Hundreds were arrested and dozens hospitalized. The most brutal standoff took place in Marseille in June, when several British and Russian fans clashed, with two people left in a coma after the standoff.
You can share this story on social media: