Stampede, panic in Paris fanzone after firecracker let off (VIDEO)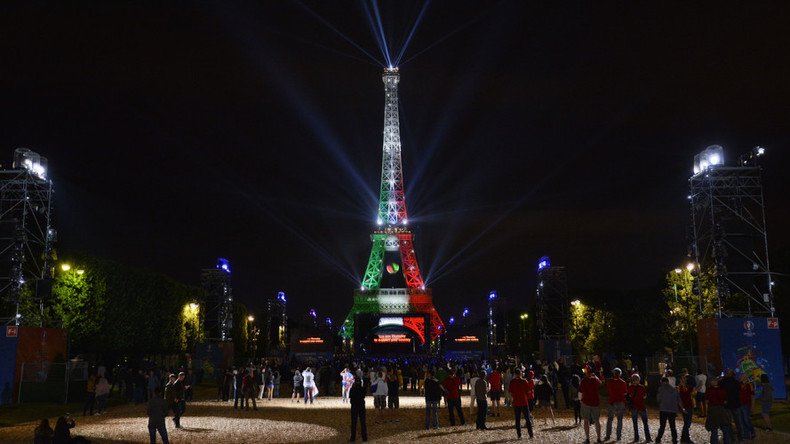 Twitter users report a stampede at a fan zone in Paris during the Italy-Germany Euro-2016 quarter-final. The panic is said to have been caused by fireworks, which some of the fans mistook for bomb explosions and ran away in disarray.
The incident occurred at the fanzone located at the foot of the Eiffel Tower, videos posted from the scene showed.
The sounds of blasts can be heard on the footage, with people screaming and running away from the football screens in an attempt to escape the site.
Several serious injuries have been reported by Le Parisien daily, while some people also suffered minor sprains and strains.
People in the crowd knocked down several safety barriers and stalls while fleeing, according to L'Equipe newspaper.
France remains on high alert since a state of emergency was declared by the French government in November in the wake of a set of deadly terror attacks on the capital that claimed lives of 130 people and injured hundreds more. In April it was extended to the end of July to cover the Euro-2016 football championship hosted by France.
In another effort to boost security, France enabled police officers to carry guns while off-duty. The decision was triggered by an assassination of a police officer and his girlfriend at their home in the Paris suburb. The attacker, who was shot dead by the police in a raid, claimed allegiance to Islamic State (IS, formerly ISIS/ISIL).
France has not been the only target for terrorist attacks. On March 22, twin suicide bombings hit Brussels Airport and Maelbeek metro station in Belgium, killing 32 people. Last week an attack on Istanbul's Ataturk Airport left at least 42 people dead and injured 239 more.
You can share this story on social media: