WADA informant Stepanova fails in first Olympic bid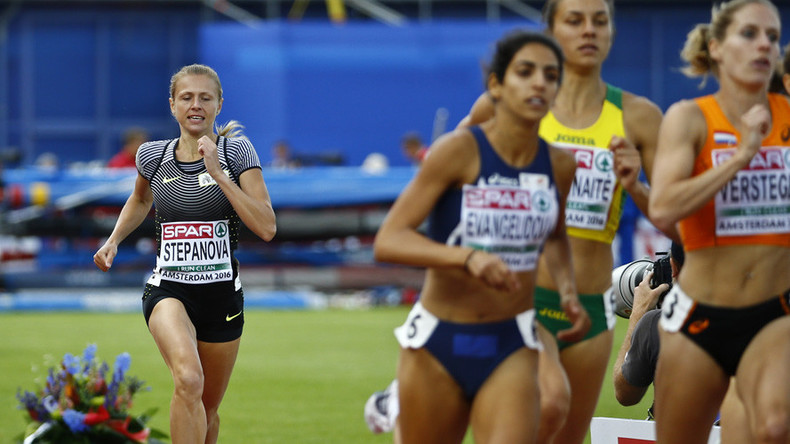 Yulia Stepanova, the Russian 800m runner and WADA informant, suffered a foot injury in her first race as an independent athlete on Wednesday.
The 30-year-old, who hasn't raced since September, is aiming to compete in the Olympic Games in Rio next month under a neutral flag, due to a ban on Russian athletes.
READ MORE: Russian athletes banned from Rio 2016 Olympics as IAAF upholds suspension
The runner needs to reach the qualifying standard to compete, but was off the pace within the first 100 meters of her competition in Amsterdam.
Stepanova was two seconds down at the halfway point, before pulling up midway through the second lap and walking the remaining distance.
In 2013, Stepanova received a two-year ban for doping, but with her husband Vitaly, moved from Russia and spoke out about doping within Russian athletics to the media.
Russia's track and field team was suspended from competing in November 2015 after the publication of WADA's report. The IAAF upheld that ban in June this year. However, it was revealed many of the issues are yet to be resolved.
Stepanova became the first Russian athlete to pass the "exceptional eligibility" guidelines outlined by the IAAF's Doping Review Board.
Commenting on her latest race, her former coach, Vladimir Kazarin, said:"Yulia is very weak psychologically and she can only run when she has been doping.
"If she is now training without the help of doping, then she won't achieve anything and won't get to her former levels."
Her husband Vitaly Stepavon said that Yulia is happy to be back in sports: "She never stopped training, but she has not done the necessary training to run two minutes because she did not know she would be allowed to compete.
"She also has had some minor injuries lately so she is not in great shape yet.
"I don't know what she will do but it is not about winning now, it's just about trying to compete, respecting the competition and not putting the result ahead of the rules.
"She is just happy to be able to compete again and whatever she can run, she will run."
You can share this story on social media: