Board collapses during Olympic training for synchronized diving (VIDEO)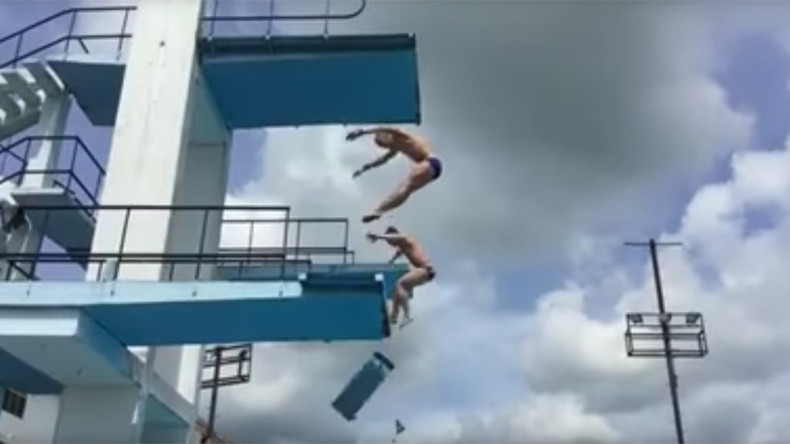 A diving platform collapsed when Russian athletes were performing synchronized diving during their Rio 2016 Olympic preparations in Havana, Cuba.
Sergey Nazin was executing a synchronized dive with his partner, when the diving board suddenly felt apart.
Nazin, however, managed to regroup and finish the dive.
Luckily for the diver loose parts of the platform reached the water while he was still midair and so he avoided injury.
"Nothing too bad happened in here, Nazin regrouped, and the Cuban side has already fixed everything," Oleg Zaytsev, Russian national diving team coach, said.
"I remember many similar accidents, including ones when divers hit the boards with their heads.
READ MORE: Skydivers fall to their deaths in Olympic rings performance in Brazil
"Once that happened to three times gold Olympic champion Gregory Louganis.
"The competition had to be stopped, so the doctors could check on him. But he returned to the action and won his fourth gold medal that day," said Zaytsev, talking to sport-express.ru
The Rio Olympics start on August 5, with the diving competitions taking place from 7 to 19 August.