Ex-UFC fighter Monson visits Ukraine conflict zone, blasts US for calling locals 'terrorists'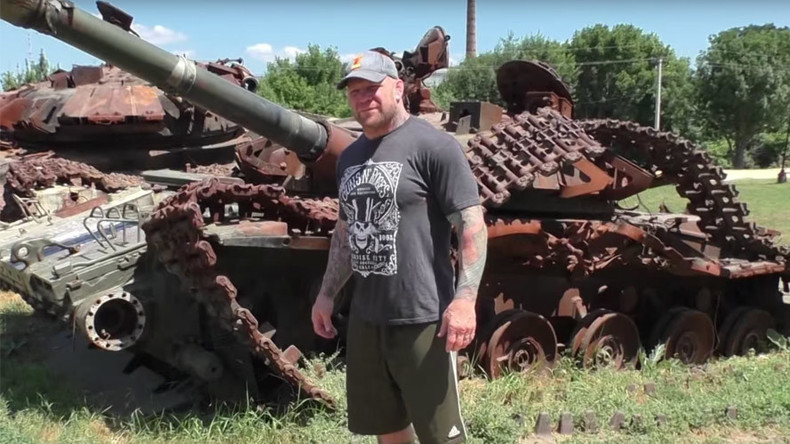 Veteran MMA fighter Jeff Monson, who took up Russian citizenship last year, has visited war-torn eastern Ukraine to deliver a series of master-classes and make trips to local schools and orphanages.
Monson arrived in Lugansk, the capital of the self-proclaimed Lugansk People's Republic, on Monday.
He visited a local martial arts school where he gave a master-class to children in kickboxing, taekwondo, Muay Thai and aikido.
The US-born mixed martial artist said that the aim of his visit was to try to break the global information blockade of Donbass.
"I came here not only to see everything with my own eyes, but to tell the world about everything that happens here. So that the people here won't feel forgotten and ignored," he said.
He also visited a local orphanage, where he had a chance to meet with children who have suffered most from the conflict.
The 45-year-old said he was stunned by the drawings of the local children, who "should draw the sky, houses and flowers, but they draw war instead."
Monson, who competed in the UFC, PRIDE and other MMA organizations, stressed that he has no fear of possible sanctions from the US authorities that could result from his visit.
"I have no loyalty towards this country [the US]. Receiving those sanctions would even be an honor for me because I disagree with the US policies," he explained.
The fighter slammed the American authorities for backing the Kiev government in the conflict and meddling with other countries around the globe.
"I think the US has no right to call the people of Donbass terrorist for their desire of independence. Just look at what's happening in Afghanistan, Libya, Syria, Iraq, study the world history after World War II – the US simply has no right to blame anybody of terrorism," he said.
Monson began his professional career back in 1997, winning 60 out of his 87 professional MMA bouts.
He has recently become actively involved in Russian politics, and joined the Communist Party of the Russian Federation (KPRF) in April.
READ MORE: Monson: It's been my dream to join Communist Party (RT VIDEO EXCLUSIVE)
The conflict in eastern Ukraine erupted in April 2014 when Kiev sent its military to the southeastern Donetsk and Lugansk Regions, which refused to recognize the new coup-imposed government in the capital.
Two years of fighting have led to deaths of over 9,000 people in eastern Ukraine, according to UN estimates.
The peace deal signed by the sides in February 2015 has led to a decrease in violence, but the conflict is still far from being settled.
You can share this story on social media: