Doping scandal: Russian weightlifting team to face Rio ban
Russia's weightlifters are set to be suspended from competing at the Rio Olympics for anti-doping violations.
The International Weightlifting Federation (IWF) says the ban, which is awaiting confirmation by the International Olympic Committee (IOC), relates to the re-testing of samples taken at the 2008 and 2012 Games.
Belarus and Kazakhstan were also banned over failed retests by the IWF, while the governing body also punished other nations by reducing the number of available athlete slots in Rio.
READ MORE: Russia bans 7 weightlifters for doping as part of clean-up program
"The IWF Executive Board has decided that national federations confirmed to have produced three or more anti-doping rule violations in the combined re-analysis process of the 2008 and 2012 Olympic Games shall be suspended for one year," the IWF said in a statement.
The decision followed confirmation last week that four London 2012 Olympic weightlifting medalists from Kazakhstan, including four-time world champion Ilya Ilyin, had tested positive for performance-enhancing drugs.
Because the tests were not carried out by the IWF, the IOC is required to confirm that the positive results are not subject to appeal or amendment.
The IWF has also questioned the European Weightlifting Federation for appointing Sergey Syrtsov, president of the Russian federation, as chair of its anti-doping commission.
Read more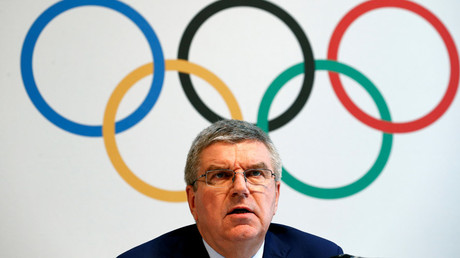 "Given the current environment, the IWF Executive Board strongly suggests that Mr Syrtsov and the European Weightlifting Federation reconsiders the appointment," it said a statement.
The IWF is cracking down on doping, saying it will set up a task force to test every athlete before Rio 2016.
The news is another blow to Russian sport, following on from the IOC's decision to formally uphold a ban for the Russian track and field team on Tuesday.
However, the door remains open for some athletes to go to this summer's event if they meet stringent testing procedures and prove they are clean.