'Remarkably & worryingly simple': Man sneaks into 'sterile' zone of Marseille Euro 2016 stadium
Thousands of officers, deployed to Marseille amid terror threats at the Euro 2016, have failed to prevent a Sun reporter from infiltrating the supposedly secure Stade Velodrome, which will host six matches with hundreds of thousands in attendance.
Located about 3.5 kilometers from Marseille's city center, Stade Velodrome seats 67,000 people and will host its first Euro 2016 match on Saturday between England and Russia. In the wake of the terror attacks in Paris last November and numerous warnings of possible Islamic State (IS, formerly ISIS/ISIL) strikes, security services are on high alert ahead of the tournament and a higher police presence than usual is in place to stop any terrorism attempts.
With that in mind, a British newspaper, The Sun, decided to check exactly how safe thousands of fans would be attending the football matches in Marseille, which tops the anti-terror list of "sensitive" venues.
Read more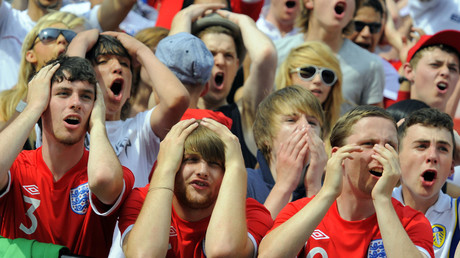 In the middle of the day on Thursday – on the eve of Euro 2016 kickoff – a Sun reporter Ross Kempsell, managed to infiltrate the secure area of the stadium unabated, exposing the harsh reality that no real checks were in place to prevent a potential attack. At any given time, if Kempsell was a terrorist, he could have hidden explosives right underneath the stadium.
Kempsell filmed his tour on camera. First, he entered the stadium area through a car gate entrance following a driving vehicle. Security officers were nowhere to be seen. Once inside the immediate sporting venue, he noticed a fence which he approached to find a construction laborer on the other side of the barrier. Without wearing any official uniform or showing any identification or media accreditation, Kempsell asked the worker if he could get into the secure zone of the stadium.
Journalist Ross Kempsell told RT that "it was remarkably and worryingly simple to penetrate security" at the stadium.
"I simply walked around the stadium complex where I did not observe a single police officer in its gates…you had staff at the front of the stadium…but I simply walked around to the rear of the stadium…and came across a group of construction workers who simply waved me through the perimeter barrier," he said.
The Sun reporter was allowed in to walk freely underneath the massive concrete structure where contractors could be seen finishing the final bits of construction. Already inside, he then asked another worker "is it ok for me to go up there?" to which not only does he get permission but he is also offered a ladder to climb up into a section right below the stadium seats, which no ordinary person would even bother or think of touring.
"Once I was 30 meters inside the supposedly secure zone another builder offered me a ladder so that I could climb a wall and enter even further towards the pitch itself. I believe I was no more than 25 meters away from the pitch. I was allowed to go in freely through the bowels of the stadium complex for over 15 minutes," Kempsell said.
Read more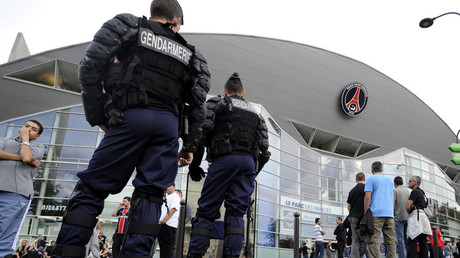 Already some 30 meters behind the security cordon and venturing deeper into the bowels of the stadium, the correspondent walked past a number of the supporting columns. Kempsell then saw an opening in a wall which led into the alleged boiler room, all this time going unsupervised. After some 20 minutes of an unchallenged tour where no CCTV cameras were observed, Kempsell left the premise.
What is more, Kempsell claimed that after his 15-minute wander through the stadium he did not come across any of the security guards, nor did he have to go through any kind of screening.
"I received no security screening whatsoever. I simply entered in my plain clothes. I was wearing a red T-shirt and blue jeans. I could've been absolutely anybody. Under my clothes I could've concealed any device…"
"I wasn't picked up... I simply left the stadium by the way that I'd come in. I entered through the car park and simply exited through the same gate. At no point was I challenged. At no point did I see anybody other than the builders that waved me through".
The construction workers were "still completing a security fence", he noted.
The reporter pointed out that the overall reaction to his way of exposing of the security lapses was mostly positive and that FA has requested an official investigation.
In Marseille, over 65,000 spectators are expected at each of the six matches scheduled at the Velodrome stadium. In addition, up to 80,000 spectators will be able to enjoy the spirit of the tournament on giant screens at fan zones set up on the beaches of Prado. For security reasons, swimming is prohibited on the Prado beaches from 7:00pm to 5:00am. Shoulder-mounted Mistral surface-to-air missile launchers will also be used for security in the French port city.
All security measures will cost €1.85 million ($2.08 million) to the City of Marseille. About 1,000 police officers and 1,850 security personnel are mobilized around the Velodrome and Prado fan area. At least 100 soldiers were also deployed in the city, in addition to some 600 personnel of private security companies. Further security measures include 30 CCTV cameras around the stadium and 11 others in the fan zone area.
In a case of a terrorist attack, an additional 900 civil security servicemen could be mobilized. Some 850 firemen and 80 Red Cross personnel are also on call to help with any emergencies. In addition, 20 health facilities are at the fans disposal.
Stade Velodrome was built for the 1938 Football World Cup. After hosting the international competition it became the home of Olympique de Marseille. New redevelopment plans were presented following France being awarded the Euro 2016 tournament. Reconstruction of the two principal stands added an additional 7,000 seats to the stadiums' capacity. Stade Velodrome also welcomed the construction of a roof that covered the complete stadium. During Euro 2016, Stade Velodrome will host four first-round group matches, a quarter-final, and one of the two semi-finals.