Marseille police teargas England fans clashing with locals ahead of Euro 2016 (VIDEO)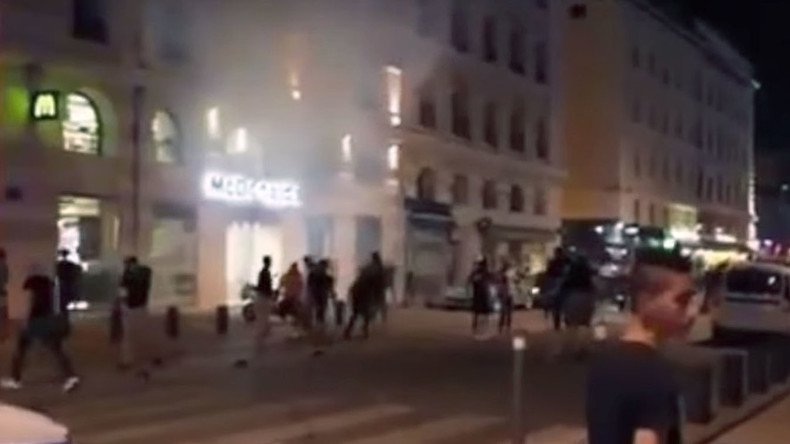 Hundreds of England football fans, some of whom were chanting "ISIS, where are you?" clashed with locals outside a bar in Marseille ahead of their team's opening match against Russia. The city's riot police teargassed the fans.
The scuffles erupted late Thursday evening at an Irish pub in the Old Port part of the southern French city when the England fans were out drinking. For reasons yet unknown a group of some 200 of them engaged local youths after one of them allegedly attacked the Brits outside a bar.
"They were baiting us, and then attacked," a fan from Leeds, who identified himself as 'Simon' told the Mirror. "Suddenly a French gang appeared and started attacking us, and throwing stuff. We had to defend ourselves, and then the police showed up."
"This was a really nasty attack. The gang knew exactly where we were, and clearly wanted to hurt us," Chris Lord, another England fan from London told the newspaper.
"I was just sat at my table when my drink was ripped out of my hand and it all kicked off. I honestly couldn't say who was to blame. It all happened in a blur," another eyewitness told the Telegraph.
Using fists and throwing chairs while casting bottles at each other, the clashing crowd forced the local riot police to promptly respond to the night disturbance. Security forces had to use tear gas, stun guns and batons to subdue the crowd as ambulances arrived at the scene to carry out the injured.
Some English fans were shouting 'ISIS, where are you?' in Marseille, which has a strong Muslim community, constituting about 30 percent of the population.
There has been no official statement from French authorities regarding the disturbance or the number of people injured or arrested.
According to various media reports, between 70,000-150,000 English football fans are expected to be in Marseille to see Russia play England this Saturday after the Euro 2016 football championship begins on Friday.
READ MORE: ISIS may attack Euro 2016 England, Russia fans with 'suicide bombs & chem weapons drones' – report
Amid repeated warnings of possible terrorist attacks during the football tournament, France is on high alert. More than 1,000 police officers are deployed to offer security for the duration of the competition in Marseille, with snipers positioned on the roof to fend off any terrorist attempt. Shoulder-mounted Mistral surface-to-air missile launchers will also be used for security in the French port city.
You can share this story on social media: