Usain Bolt & Jamaica relay sprinters could lose Beijing gold after teammate 'fails B sample test'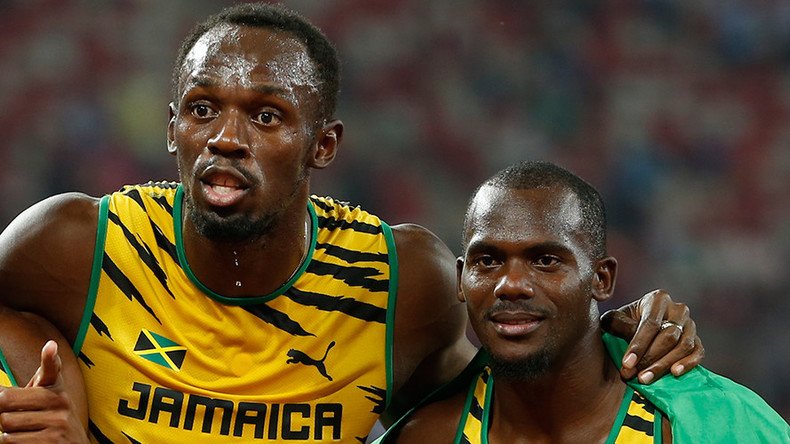 Jamaican sprinter Nesta Carter has reportedly failed a "B" sample test for the use of a banned stimulant at the 2008 Beijing Games, which could now cost his relay teammates, including Usain Bolt, their Olympic gold medals.
The Jamaica Olympic Association (JOA) released a statement last Friday saying it had been notified by the International Olympic Committee (IOC) that a positive test had been returned, but the athlete wasn't named.
Sources close to the case say Carter, who was part of Jamaica's successful 4 x 100m relay team in Beijing, has tested positive for Methylhexanamin.
The stimulant has been on the World Anti-Doping Agency (WADA) Code banned list since 2004, although it was reclassified on the 2011 list as a "specified substance."
Carter helped Jamaica win gold medals at the 2008 and 2012 Olympics and the 2011, 2013 and 2015 World Championships.
While teammates Bolt, Asafa Powell and Michael Frater are not accused of doping, they could be stripped of their gold medals as a result of Carter's positive test.
IAAF Rule 41 states: "the relay team shall be automatically disqualified from the event in question, with all resulting consequences for the relay team, including the forfeiture of all titles, awards, medals, points and prize and appearance money" if an athlete is found guilty of doping.
However, there is a precedent for the innocent team members to keep their medals.
American athlete Marion Jones was stripped of her two relay medals from the 2000 Sydney Games for doping offenses, but her teammates kept theirs after successfully appealing to the Court of Arbitration for Sport (CAS).
IOC spokesman Mark Adams said it was unclear at this stage what sanctions would be imposed in this case.
"It is still being worked out," he said. "What we want to do, and are trying to do, is target athletes who have positive results and stop them from competing in Rio."
Bolt and Powell could not be reached for comment, while Frater told by Reuters by telephone on Wednesday that he "Can't comment until everything is official."
Powell received an 18-month ban in 2014 after testing positive for the drug oxilofrine, although this was reduced to six months after an appeal to the CAS.
Bolt has repeatedly stated he is a clean athlete and was particularly vocal around the time of Powell's failed test.
"I was made to inspire people and made to run," said Bolt. "I was given a gift and that's what I do.
"I know I'm clean so I'm just going to continue running and using my talent."
You can share this story on social media: