Tennis star Sharapova banned for 2 years over doping - ITF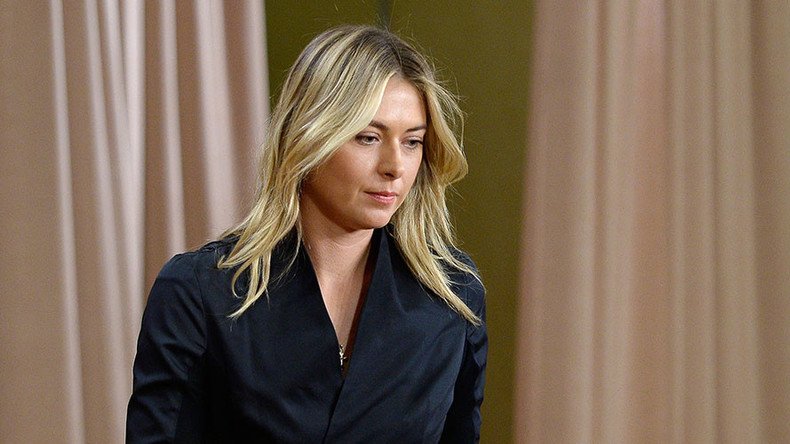 The International Tennis Federation (ITF) has suspended Russian tennis player Maria Sharapova for two years after she tested positive for meldonium earlier this year. The verdict means the former world number one will miss the 2016 Olympics.
The verdict for the 29-year-old will be back-dated to January 26 this year, the ITF announced on Wednesday.
The suspension can be appealed at the Court of Arbitration for Sport.
In a Facebook post following the ITF announcement, the five-time Grand Slam champion said she could not accept "an unfairly harsh two-year suspension."
"The ITF tribunal unanimously concluded that what I did was not intentional," Sharapova said, adding that it had been accepted that she did not take the drug "for the purpose of obtaining a performance enhancing."
The ITF had argued that Sharapova intentionally violated the anti-doping rules, and asked the tribunal to suspend the Russian player for an intentional violation, which would have been four years.
Mitigating circumstances had been taken into consideration in Sharapova's case, Russia's Sports Minister Vitaly Mutko told TASS on Wednesday, adding that he still felt "very sorry" about the tribunal decision. The tennis player and her team had hoped for leniency, as the sportswoman had stated that her use of meldonium was to combat health issues, such as a magnesium deficiency and a family history of diabetes.
Russia's national team coach, Vladimir Kamelzon, slammed the tribunal's decision, saying Sharapova's punishment was not appropriate and that after two years of disqualification it would not be easy for her to resume her career.
"The punishment is severe and is not equivalent to what Sharapova has been found guilty of. Sharapova did not become a star on a global scale because of meldonium. The punishment is too severe," Kameltzon said.
"Maria showed the rectitude of motives. She did not know she was taking a banned drug. The outcome is tragic," he added, saying that Russia's Tennis Federation is ready to offer Maria Sharapova full support.
Sharapova failed a doping test at the Australian Open this year, when she tested positive for meldonium, also known as mildronate.
The player broke the news herself in March at a specially organized news conference in Los Angeles. She said that while she had failed the doping test, she had not been aware that the drug she was using for medical purposes had been banned by the World Anti-Doping Agency (WADA).
Sharapova has been listed on Russia's provisional team for the Rio 2016 Olympics, but will now miss the games. Ekaterina Makarova, 28, who is currently listed as number 36 in the Women's Tennis Association (WTA) singles ranking, will now represent Russia in the summer Olympics, the president of Russia's Tennis Association, Shamil Tarpishchev, told TASS news agency.
You can share this story on social media: