'I hope they have kidnapping insurance': Trump slams decision to move golf tournament to Mexico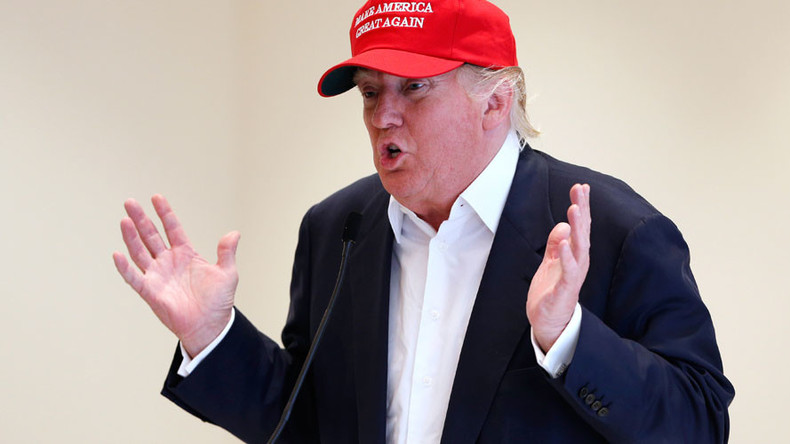 US Republican presidential candidate Donald Trump has hit back at the Professional Golfers Association (PGA) after a leading golf tournament was moved from one of his courses to Mexico.
The World Golf Championship (WGC) is traditionally held at Trump's Doral course in Miami, but the PGA Tour has confirmed it could not find sponsors to hold the 2017 tournament there.
Trump told Fox News: "I just heard the PGA Tour is taking their tournament out of Miami and moving it to Mexico.
"They're moving it to Mexico City which, by the way, I hope they have kidnapping insurance. They're moving it to Mexico City and I'm saying: 'What's going on here?'
"It is so sad when you look at what's going on with our country."
Trump has consistently claimed Mexico undermines the US economy during his campaign rallies.
PGA Tour Commissioner Timothy Finchem said Trump's views on a number of issues made it "difficult" to attract sponsors, with Cadillac one of the companies who have reportedly pulled out.
"It's fundamentally a sponsorship issue," Finchem said.
"Donald Trump is a brand, a big brand, and when you're asking a company to invest millions of dollars in branding a tournament and they're going to share that brand with the host, it's a difficult decision.
"From a golf standpoint we have no issues with Donald Trump. From a political standpoint we are neutral. PGA Tour has never been involved or cares to be involved in presidential politics."
The PGA Tour has penned a seven-year sponsorship deal with Grupo Salinas, with the first WGC-Mexico Championship due to be held in March next year.
Former Mexican President Vicente Fox took to Twitter to mock Donald Trump, saying: "You're a loser, and you don't know how to lose. Mexico wins second round. PGA preferred Mexico to Trump facilities. Keep creating enemies."
@trump you'r a loser,and you don't know how to lose.Mexico wins second round.PGA preferred Mexico toTrump facilities.Keep creating enemies

— Vicente Fox Quesada (@VicenteFoxQue) June 1, 2016
Despite switching the venue of the WGC, Timothy Finchem didn't rule out taking the tournament back to the Doral course in the future.
"The PGA Tour has had a wonderful history in greater Miami and at Trump National Doral and we remain interested in returning when the time is right.
"The Tour has had a 55-year commitment to the Doral community, the greater Miami area and the charities that have benefited from the tournament.
"Immediately after the completion of the 2016 tournament, we will explore all options regarding the event's future."
Trump heads to Scotland on June 24 when his Turnberry hotel and golf course reopens after a $290 million renovation.
There have been calls for the Royal and Ancient to remove the course from the British Open rota over controversies caused by Trump, but it has refused to bow to the pressure to date.