One-armed surfer stuns world's best at Fiji event (VIDEO)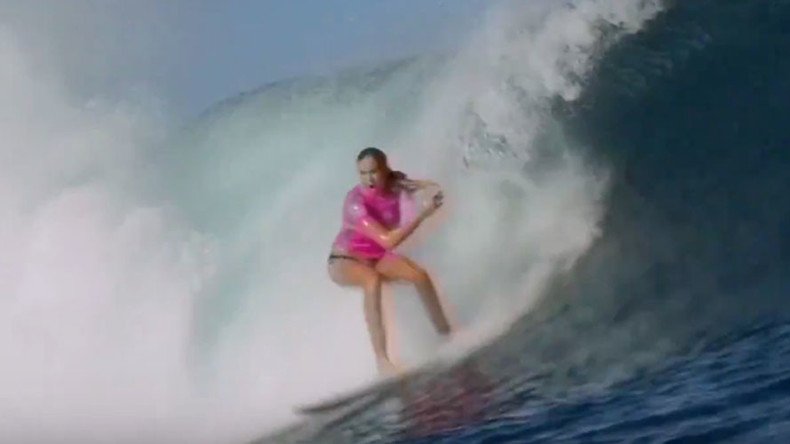 Surfer Bethany Hamilton, who lost an arm in a shark attack when she was just 13, finished in a career-high third place at the World Surf League's Fiji Women's Pro event.
Hamilton beat six-time world champion Stephanie Gilmore and world number one Tyler Wright on her way to the semi-final.
The Hawaiian was defeated by the eventual winner, France's Johanne Defay, in the semi-finals.
"I know I'm in a unique position to encourage young girls to make great decisions as they grow into women and to chase their dreams," Hamilton said.
"Even after losing my arm, I'm still doing everything I've hoped I could do with my future and even more.
"I think I am a reminder for the young girls that they can do it if they set their mind to it."
The 26-year-old, whose life story led to a bestselling autobiography and a documentary titled 'Soul Surfer', said it was an honor to compete alongside her fellow athletes.
"Stephanie, Tyler and Carissa are three of my favorite female surfers, so it was daunting knowing I had Stephanie in my heat," she added.
"I have so much respect for everyone on tour.
"I've been dreaming of surfing and competing here, so I was excited to receive a wildcard entry into this event.
"I'm honored that I can inspire people."
Hamilton lost her left arm in a tiger shark attack in 2003, but was back in the water and surfing just a month later.
She claimed her first national surfing title less than two years after the attack.
READ MORE: Amputee footballer scores contender for goal of the season (VIDEO)
Hamilton married youth minister Adam Dirks in 2013, with the couple having their first child Tobias last year.
The pair finished third on the 25th season of the CBS reality television show The Amazing Race.
You can share this story on social media: