'Discrimination against Russia': Isinbayeva to fight for right to compete at Rio 2016 Olympics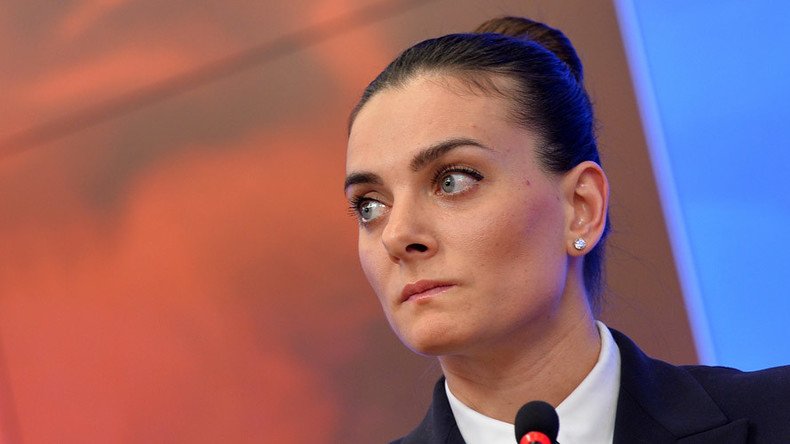 Star Russian pole vaulter Yelena Isinbayeva has threatened to sue the International Association of Athletics Federations (IAAF) if she is prevented from competing at this summer's Olympic Games, saying that a ban violates her human rights.
Russia was suspended by the IAAF in November after the World Anti-Doping Agency (WADA) revealed systemic doping offences.
The governing body will decide next month whether to reinstate Russia ahead of the Rio Olympics in August.
"In the case of a negative ruling for us, I will personally go to an international court regarding human rights – and I'm confident that I'll win," double Olympic champion Isinbayeva said.
"Of course I'm angry because of this helplessness. All I can do now is train."
Isinbayeva returned to training in 2015 after the birth of her daughter the previous year and is hoping to take part in her fifth Olympic Games.
READ MORE: Back in the swim: FINA lifts Efimova's meldonium suspension
The seven-time world champion, who was speaking from her home via Skype in an interview arranged by Russian track officials, showed documents during the call which detailed drug tests she had recently passed.
"I really hope this will be positively sorted out – I deserve it, it's my right," Isinbayeva added.
"All of our young, talented, clean athletes deserve it, too. If they miss Rio, four years is a long time.
"I am mad. How would you feel? This is my chance to win a third Olympic gold and write another chapter in my story, but I'm being asked to pay for the mistakes of others.
"I've worked hard to come back from giving birth. This could be a great accomplishment for women.
"There is so much negativity about Russia at the moment but doping isn't just a Russian problem.
"Athletes from America, Jamaica and lots of other countries have failed tests and come back two years later. Only in Russia is the entire team banned. It's discrimination."
Elsewhere, an adviser to the Russian sports minister said the country's government supports plans to make doping a criminal offense.
Natalya Zhelanova confirmed the government hopes to get the law passed for 2017, targeting coaches and officials who help athletes to dope.
"It's quite a long procedure but now everyone understood that we are in crisis and we have to do quick steps to fix the situation," Zhelanova said.
READ MORE: Russian senator calls for criminal prosecution for doping in sports
The new head of the Russian track federation, Dmitry Shlyakhtin, maintained Russia was on target to meet IAAF conditions for reinstatement, saying 90 percent had been met.
These included extra testing for Russia's national track team in recent months and an overhaul of senior management.
Shlyakhtin hinted that political pressure could keep Russia out of the Rio Games, saying that countries such as Belarus, Ukraine, India and "especially China" should be thoroughly investigated.
He suggested international officials ignored some violations.
"The brakes are put on a lot of issues and they go away," he said. "Let's all play fair according to one set of rules."
You can share this story on social media: