USA fan urinates on Pavel Datsyuk's jersey inside of Russia's locker room at Hockey Worlds? (VIDEO)
A shocking video of a US ice hockey fan urinating on a Russian captain's jersey just before team US was thrashed 7-2 by Russia in the bronze medal game of World Championship has gone viral.
The video shows an American fan dancing around Russia's locker room, topless and showing off a huge smiley face with an Uncle Sam hat painted on his stomach.
Meanwhile his friend recording the footage proclaims: "Yo guys, we're at the World Championships in Moscow, in the dressing room of the Russians" as stereotypical Russian folk music plays in the background.
The dancing man then goes over to the player's kit and takes a jersey, which appears to belong to Russian captain Pavel Datsyuk, who also plays for the NHL's Detroit Red Wings.
His friend warns "Crazy Mike" not to touch it: "Dude, if they catch us, they're going to beat the sh*t out of us."
There's no stopping Mike, though, as he proceeds to pee, aiming for the jersey and one of the player's skates beneath the bench.
However there are reasonable doubts that the video was real, with the main question posed how did the fans get through the security to gain access to the locker room?
And while locker room seems to be accurate, the player's jersey was obviously not the one Datsyuk wore in the tournament.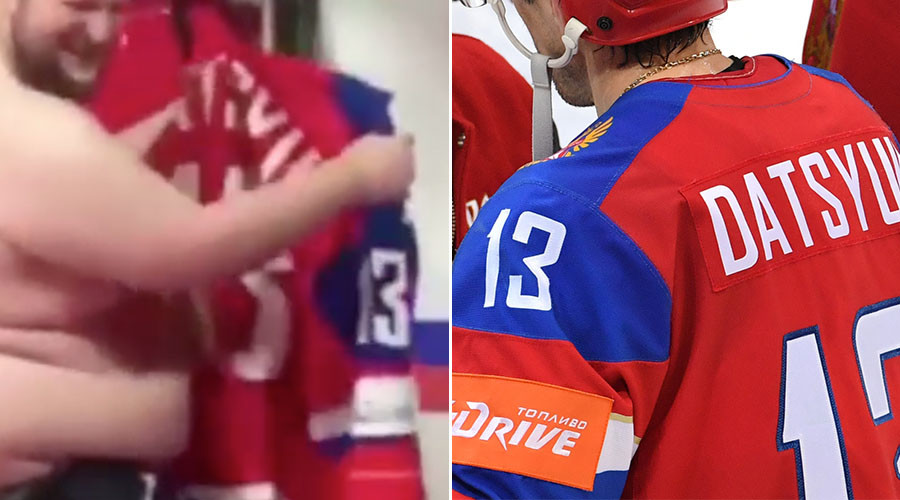 Bigger numbers and different advertisements on the shoulders make it obvious.
The clip was originally uploaded to YouTube by user named Scott Edwards but has since been removed.
The video was reportedly recorded before the host country defeated the US 7-2 to claim the bronze medal in the Ice Hockey World Championships.