Russia destroys US 7-2 to claim bronze at Ice Hockey World Championships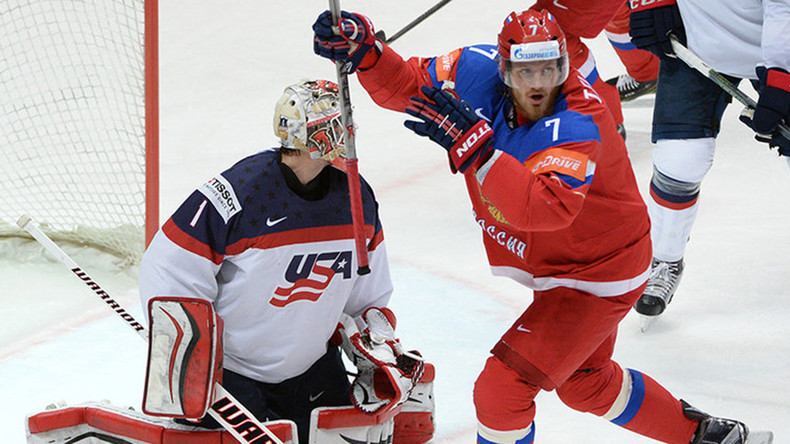 Russia has won bronze at the 2016 Ice Hockey World Championships in Moscow after thrashing the US 7-2. Although Russia has yet to win the tournament on home ice since the Soviet Union won in 1986, this is the eighth time they have won a medal in 10 years.
Oleg Znarok's side quickly put the disappointment of Saturday's semi-final defeat against Finland behind them as they took the game to a youthful American side straight away.
READ MORE: Finland eliminates Russia in Hockey World Championships semifinals
Goals from Slava Voynov and Sergey Mozyakin put the hosts in front at the end of the first period as the Americans struggled to cope with Russia's potent offense, which included the likes of NHL superstar Alex Ovechkin and the tournament's leading points scorer Vadim Shipachyov of KHL.
There was no let up as two goals in the space of three minutes midway through the second period increase Russia's lead. Ivan Telegin made it 3-0, before Evgeny Dadonov scored his sixth goal of the tournament to put the game beyond the Americans.
Frank Vatrano grabbed one back for the US on the powerplay, but the impressive Artemi Panarin made it 5-1. The Chicago Blackhawks grabbing his 14th point of what has been a mightily impressive tournament.
Vatrano pulled a further goal back for the American's at the start of the third period, but Mozyakin scored his second following an assist from Pavel Datsyuk to restore Russia's four-goal cushion.
Fittingly it was Shipachyov who got Russia's seventh to complete the rout, as he scored on the powerplay.
"We couldn't find our game," US team captain Matt Hendricks admitted, talking to RT Sport after the game.
"Russians seemed to possess the puck more than we did. They seemed to check us better in the defensive zone than we did in ours. That's the team with a lot of pride over there. And we have to credit them because they played really well tonight. They executed better than we did" added Hendricks.
Playing on home ice continues to be something of a curse for the Russians as they have not managed to win a tournament at home side 1986, when the Soviet Union were triumphant.
However, Russia continue their fine record in this tournament over the last decade and this bronze is the eighth time they have managed to pick up a medal over the last 10 years, while the form showed by the likes of Shipachyov, Panarin and Dadonov during this championship will bode well for the future.