Finland eliminates Russia in Hockey World Championships semifinals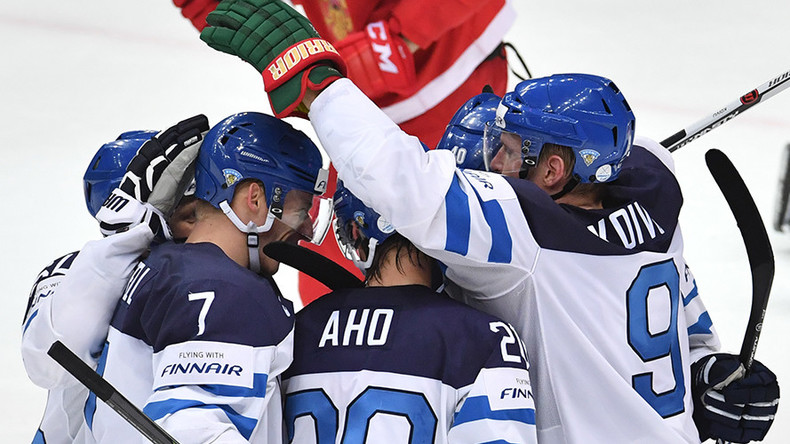 Russia's dream of winning the 2016 Hockey World Championships on home soil is over after the competition hosts were eliminated at the semifinals stage by Finland on Saturday.
Oleg Znarok's men had been on an impressive winning run and were full of confidence leading into the clash at the Moscow's Ice Palace after overcoming Germany in the quarterfinals.
However, the Finns remain the competition's only unbeaten side and move into Sunday's final after a 3-1 win.
The home fans were sent into rapture early on as Russia started quickly and Sergei Shirokov struck to give his side a 1-0 lead after only two minutes.
The supporters were dreaming of a date in the final as the hosts held the lead after 20 minutes, but Finland showed their caliber in the second period by scoring three unanswered goals and taking control of the game.
Goals from Jussi Jokinen and a brace from 18-year-old wonderkid Sebastian Aho put the Finns into an unassailable position.
Russia pushed hard to get back into the match and had 13 more shots than their opponents over the course of the clash, but Finland goaltender Mikko Koskinen was stunning in the net to keep the hosts at bay.
Finland forward Alexander Barkov admitted he was delighted with his team's performance.
"I just think once the score got to 3-1 we grew in strength," he said.
"We defended powerfully, and our goalie helped us a lot, of course. We just tried to get the puck up to their zone as much as we could and keep them at arm's length."
In the other semifinal, Canada prevailed against North American rivals United States, winning the late game 4-3.
Bill Peters' men were firm favorites after beating the US 5-1 in the pool stages, but this fixture was a lot closer than many expected.
Despite Canada taking a 2-0 lead in the first period through goals from Brendan Gallagher and Brad Marchand, the United States fought back.
John Hynes' men won the second period 3-1 to level the scores at 3-3 ahead of a nail-biting final 20 minutes.
Auston Matthews again led the charge for the US, who were temporarily 3-2 in the lead before Derrick Brassard equalized for Canada.
Ryan Ellis proved the game-winner for Canada, scoring early in the third period and propelling his side into the final against Finland.
Peters hailed Ellis for scoring the decisive strike after the celebration had died down.
"His hockey sense is at an elite level and that was a bomb. That's a world-class shot," the coach said.
Finland and Canada have already met in the competition, with the Finns prevailing 4-0 to claim top spot in Group B.
Russia will look to end their campaign on a high note, as they clash with United States for the bronze medals.