'Quick little monkeys': NBA's Steven Adams apologizes for remarks about Golden State Warriors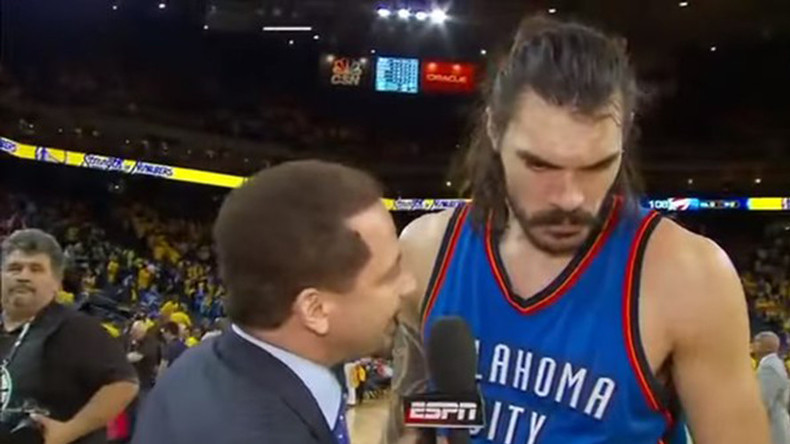 NBA player Steven Adams has apologized for referring to players from rival team the Golden State Warriors as "quick little monkeys."
Oklahoma City Thunder player Adams made the remarks in a post-match interview following his team's victory over the Warriors in the first game of the NBA Western Conference Finals on Monday.
Adams, 22, apologized for his "poor choice of words" in describing the opposition, saying: "I wasn't thinking straight. I didn't know it was going to upset anyone," USA Today reported.
The New Zealander moved to the US in 2012, and put the comments down to cultural differences: "It's just different, mate. Different words, different expressions, and stuff like that," he said.
"But they obviously can be taken differently, depending on which country you're in. I'm assimilating, mate, still trying to figure out the boundaries. But I definitely overstepped them tonight."
Some on social media reacted with acceptance of perceived cultural differences being behind the remarks.
Others, however, expected a media backlash as a result of the comments.
Adams, who plays as center, scored 16 points in his team's 108-102 win over the much-fancied Warriors, who set a regular season record of 73 wins on their way to the playoffs.
READ MORE: Curry makes NBA history with unanimous MVP award
The second game of the Western Conference finals takes place on Thursday at Oakland's Oracle Arena.