Controlled explosion carried out at Manchester United stadium after evacuation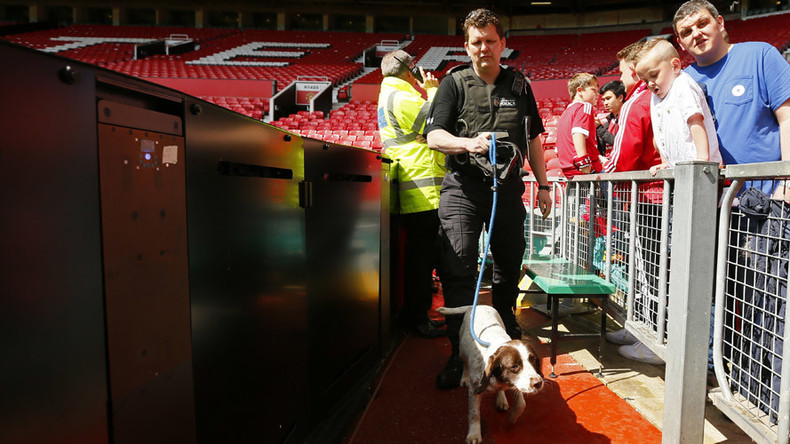 A controlled explosion has been carried out at Old Trafford stadium in Manchester, northwest England, after a 'suspect package' was found just half an hour before the Manchester United vs. Bournemouth game.
After an assessment of what was described as an "incredibly lifelike explosive device" was conducted, bomb disposal experts destroyed the item, Manchester police reported.
It was then found out that the device "wasn't viable," police said, adding that "a full search of the stadium is ongoing."
Bomb disposal experts carried out controlled explosion at Old Trafford on what is described as incredibly lifelike explosive device...

— G M Police (@gmpolice) May 15, 2016
It later emerged that the object was a training device that had been left at the stadium by a company that had been carrying out training exercises in the week before the match.
The kick-off was originally delayed after two stands were evacuated half an hour before the start.
But shortly after the match was abandoned on police advice.
The official club's statement read: "Due to the discovery of a suspect package in the North-West Quadrant of the Old Trafford ground, the match against Bournemouth has been abandoned today on police advice.
"People in the stadium were asked to remain in their seats while the forecourt was cleared of fans already evacuated from the stadium."
Police deployed sniffer dogs to search through the stands at the evacuated stadium.
The Premier League announced it would reschedule the game as soon as possible.
"The decision to abandon the Manchester United versus AFC Bournemouth match was taken after the Police advised of the necessity to deal with a suspected package.
"When it comes to matters of security it is obviously right that Manchester United and the Premier League place the safety of supporters and employees foremost.
"The Premier League will seek to rearrange the fixture as soon as practically possible and will advise fans accordingly. It is always the last resort to abandon one of our fixtures and while we apologise for the inconvenience caused to fans we are sure, in the circumstances they will appreciate the need to do so."
You can share this story on social media: