Russia beats Kazakhstan 6-4 on Hockey World Championships Day 3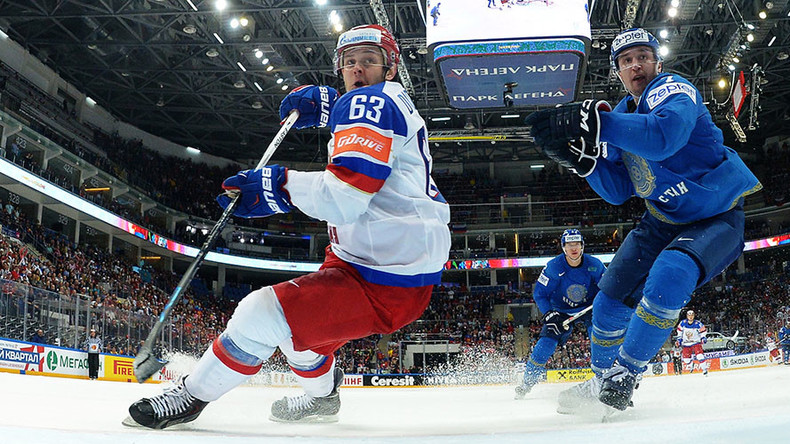 Russians recorded their first victory of the Hockey World Championships on Sunday, beating Kazakhstan 6-4 in a morale-boosting win.
The hosts had been disappointingly beaten 3-0 by the Czech Republic in their opening game of the competition, but made amends at the Ice Palace yesterday.
READ MORE: Hockey World Сhampionship 2016 kicks off with Canada hammering US, Russia losing to Czechs
Russia needed to make a statement of intent with a win over Kazakhstan and were propelled to victory as both Roman Lyubimov and Anton Belov hit doubles for the victorious team.
Evgeny Dadonov and Sergei Mozyakin both also slotted in goals, with Russia having now beaten Kazakhstan in all nine of the previous meetings between the teams.
The win will boost the host nation's confidence, with their next game taking place against Latvia on Monday.
Elsewhere, Canada confirmed their status as one of the competition's frontrunners by hammering Hungary 7-1.
The North American nation beat local rivals United States convincingly in their first outing in the tournament and now must be regarded as one of the favorites to win glory.
Canada was 2-1 up after the first period, and four more unanswered goals in the space of six minutes soon afterward ended the game as a contest.
"We knew we had to be a little bit better, a little bit sharper with the puck," Canada captain Corey Perry said.
"We talked about it each and every game, getting better in every period of every game, and I thought we did that in the second and third."
Norway got their first win of the campaign by edging out Switzerland 4-3, while Sweden made short work of Denmark, winning 5-2.
In Canada's Group B, both Slovakia and Finland made it two wins from their first two games.
The Slovaks were too good for France, winning 5-1, while Finland beat Germany by the same score.
Along with Russia's clash with Latvia, Monday's action sees Canada face off against Belarus.
Group A frontrunners Sweden and Czech Republic will do battle, while the games will be rounded off by the United States taking on Finland.