Hockey World Сhampionship 2016 kicks off with Canada hammering US, Russia losing to Czechs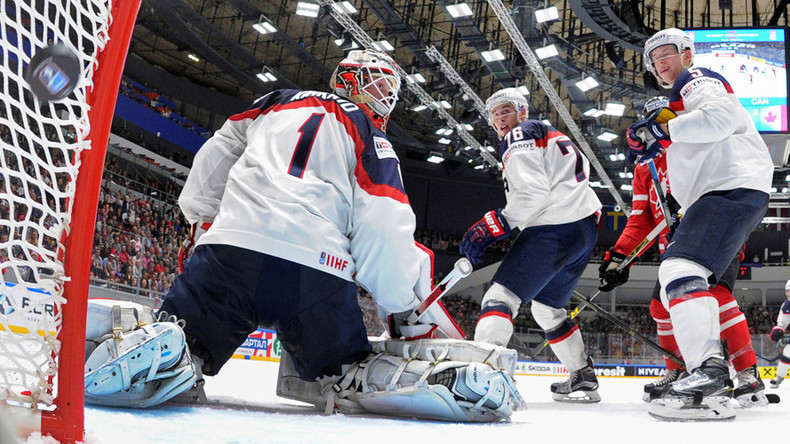 The Canadians, the reigning champion, have made a strong start at the opening game of the 2016 Hockey World Championship in Russia, putting five goals in a row between US posts. The hosts, however, started slow, losing to the Czechs.
Despite the American team having opened the scoring with a first-period power-play goal on the fifth minute, the Canadians took over the initiative with Taylor Hall, Brendan Gallagher, Matt Duchene, Boone Jenner and Brad Marchand scoring five unanswered goals.
Hall and Duchene were both on the team when the Canadians won the gold medal last year in Prague, stealing the victory from the Russian team with a score of 6:1.
Connor McDavid of Team Canada told RT's correspondent Roman Kosarev about the significance of playing against the US. "Every time you are playing the Americans as Canadians, you want to play your best game. It was good to do that."
McDavid also described the sold out crowd at the game of as very upbeat. "Russians are known how much they love hockey and tonight definitely showed that."
Meanwhile, Kyle Connor from Team USA admitted that American have a young team, but added that they will use it to their own advantage. "We got a lot of speed and we'll play with that," he said.
The game took place at the Yubileiny Sports Complex in Russia's St Petersburg.
All the games of Group B are to be held in St Petersburg, where Finland, Slovakia, Belarus, France, Germany and Hungary are to match up within the next two weeks.
Russia is playing in Group A in Moscow, along with Czech Republic, Switzerland, Denmark, Norway, Sweden and Kazakhstan.
Hosting the World Championship while celebrating the 70th anniversary of the country's Hockey Association, the Russian team played the Czech Republic on Friday and suffered a very disappointing 3-0 loss before a home crowd.
The Czech Republic's Tomas Kundratek and Roman Cervenka provided goals in first two periods, and Michal Birner added an empty-netter at the end of the third to seal the deal.
Dominik Furch was sensational in the net in his first game for the Czech national team, stopping all 25 shots and recording a shutout.
Interfax news agency reports that all tickets for the games of the Russian team have been sold out, as well as the tickets for the semi-finals and the final game, which will be held on May 22.
For those who were not lucky to get the tickets for the games, all of them will be broadcasted live on a huge screen in the official fan-zone set up for the event in Moscow's Gorky Park.