Kosovo granted UEFA membership despite Serbian resistance
Published time: 3 May, 2016 14:18
Edited time: 3 May, 2016 16:10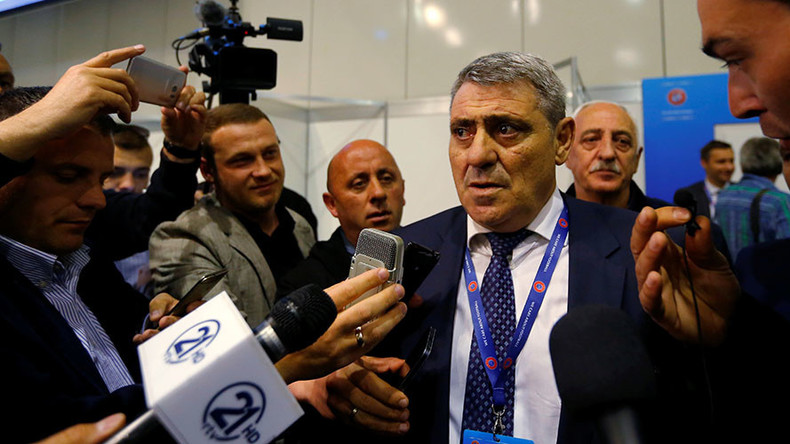 Kosovo has been given UEFA membership after winning an historic vote in Budapest on Tuesday, despite strong Serbian resistance to their bid.
UEFA's member federations voted 28-24 (with two invalid votes) to accept the former Serbian province.
A province of Serbia, Kosovo has been under effective NATO-led peacekeeping force control since 1999, after the alliance aided an ethnic Albanian rebellion against the Yugoslav federation that included Serbia and Montenegro. The province's provisional government declared independence in 2008, and has since been recognized mostly by NATO countries and their allies.
Serbian FA president Tomislav Karadzic had urged the Congress to reject the application, saying ahead of the vote that it was a case of politics interfering with sport.
"This is a political, not a footballing proposal," he said. "We are facing a stern test, we must say no to politics, no to divisions that are maybe detrimental.
"It would create tumult in the region and open a Pandora's box throughout Europe."
Kosovo has been trying for two years to be accepted as a fully-fledged footballing nation.
Since declaring independence from Serbia in 2008, the breakaway province has secured membership of a host of world bodies, including gymnastics and athletics.
It will make its Olympic debut at the Rio de Janeiro Games in August.
FIFA rejected Kosovo's application for affiliation back in 2008, but since 2012 it has been allowed to play friendly matches against FIFA member teams.
Kosovo is the 55th member of the European body and could now possibly take part in the Champions League and qualifying for the 2020 European Championship finals with further approval from UEFA's executive.
Kosovo needs to be accepted as a FIFA member before it can enter qualifiers for the World Cup.
FIFA's ruling council meets in Mexico City on Monday, May 13, and can send Kosovo's application for a decision by the FIFA congress four days later.