Leicester wins title after Tottenham fails to beat Chelsea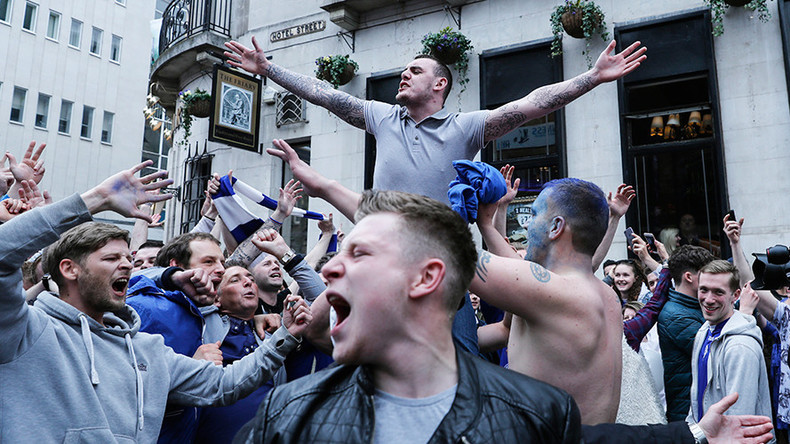 Leicester City has claimed its first-ever top title after Tottenham Hotspur drew 2-2 at Chelsea.
City's rise to the Premier League summit has been nothing short of remarkable.
Seven wins in their final nine games last season saw the Foxes produce one of the greatest-ever relegation escapes.
Despite the feat, a fall-out with the board led to manager Nigel Pearson's sacking with Claudio Ranieri brought in to replace him.
Pearson's aggressive demeanor won him few friends outside of the King Power Stadium, but Ranieri has proved to be a breath of fresh air.
His sense of fun throughout the season has been infectious, while his undoubted tactical experience has got the best out of a squad that many people thought would battling the drop once again.
The Italian has sparked massive improvement across the team, with Jamie Vardy's progression into the England squad perhaps the most obvious example.
The 29-year-old was playing non-league football just five years ago, but his 22 goals this season have seen him named the Football Writers' Association Footballer of the Year for 2015/16.
Riyad Mahrez, Danny Drinkwater, Wes Morgan and Marc Albrighton are others who have excelled under Ranieri, while Shinji Okazaki, Christian Fuchs and N'Golo Kante have proved excellent additions by the departed Pearson.
Leicester's success has been built on a solid defense, with their 34 goals conceded total being the equal third best in the league. They also have the third highest goals scored total with 64.
The Foxes have also bucked financial trends, becoming the first team outside the top five wage spenders to win the Premier League.
For the past 17 years the title has gone to one of the top three spenders, making City's achievement all the more remarkable.
Their 77-point total is 36 points higher than in 2014/15, the highest year-on-year rise by any team in England's top division during the three-point era (which started in 1981-82).
City's title victory represents one of football's most unlikely stories, but it's also noteworthy for Ranieri on a personal level.
In 22 seasons in the Premier League, Serie A, La Liga and Ligue 1 he never finished higher than second place, despite managing big clubs such as Chelsea, Juventus and Roma.
Whether Leicester can repeat their success in 2016/17 remains to be seen, especially with the added distraction of Champions League football to contend with, but whatever the future holds no-one can deny that City's success has been fully deserved.