MMA fans destroy Reebok store at Khabib Nurmagomedov autograph session in Moscow (PHOTOS, VIDEO)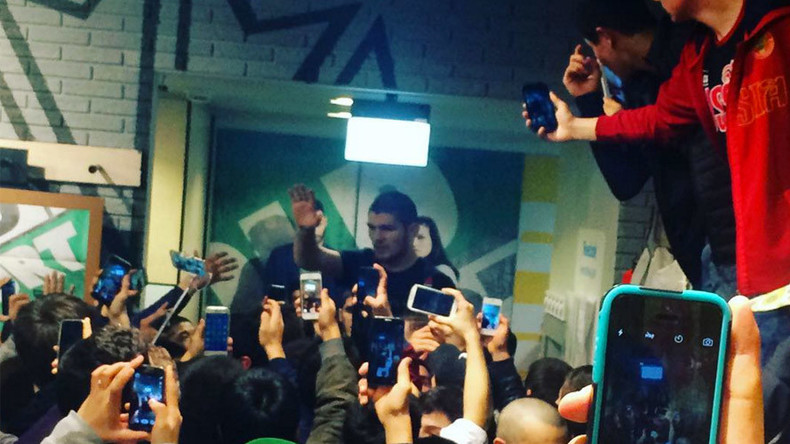 Russian UFC fighter Khabib Nurmagomedov held an autograph session in a local Reebok store during his visit to the Russian capital on Friday. But clearly organizers underestimated his popularity, which lead to some serious unrest and damage.
The undefeated lightweight, who has just started to gain a following in North America, is obviously a big name in his home country already.
Some 3,000 fans packed a Reebok store in one of Moscow's malls causing a dangerous situation for both Khabib and the store's staff.
In this Instagram video you can see Nurmagomedov fighting his way out of the store, with fans chanting, 'Khabib, Khabib, Khabib!'
Khabib had to leave the event after about 20 minutes due to security concerns, leaving the store full of upset and disappointed fans.
They expressed their anger by completely destroying products on sale and looting.
Nugmagomedov later apologized in his Instagram post, saying: "Being aware of the fact that many fans were looking to meet me, take pictures and get autographs, together with Reebok we set this meeting.
"But we didn't expect that many fans to come, more than 3000 people.
I want to deliver this message to all of my fans, please keep yourself under control next time.
"I'm sorry that I left the meeting, but the situation got out of control."
Reebok Russia also apologized and promised to have Khabib back at a better-organized event.
RT Sport, however, got to meet Nurmagomedov later that evening and asked him about his future plans and current state of MMA in Russia.
"I feel great after my last fight. I think that my time is coming.
"I am undefeated in the last eight years. That's why I think I deserve my title shot. And I hope UFC will give me a title shot at the end of the year. I want to take this belt. I want to become the first Russian UFC champion.
READ MORE: Khabib is back! Nurmagomedov marks his UFC return beating Darrell Horcher
"I think Russian MMA today deserves the UFC belt. I know just how popular it is in Russia, both UFC and MMA in general.
"And I hope in the next couple of years UFC will have a couple of Russian champions."
Khabib has surely done a great job of making MMA popular in his home country. Judging by the number of fans coming to his autograph session, he is now the number one representative of UFC in Russia.