Fury threatens to quit boxing if he loses Klitschko rematch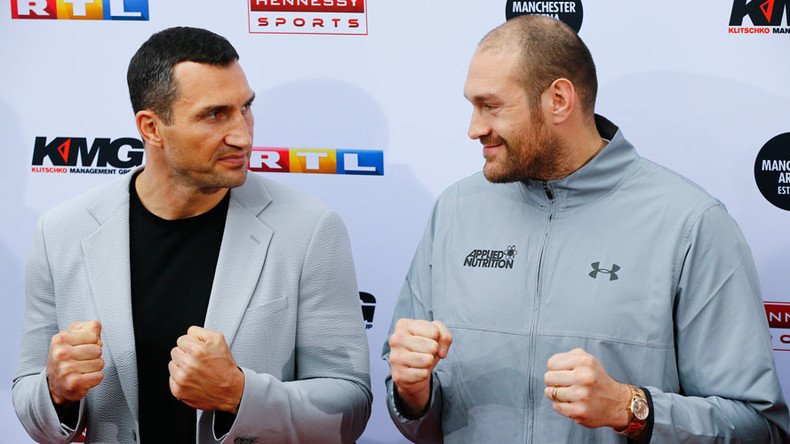 Tyson Fury says he will probably quit boxing if he loses his heavyweight rematch with Wladimir Klitschko in Manchester on July 9.
Fury's antics ahead of their previous meeting were bizarre, with his controversial views on women and homosexuality offending many people.
It appears he is in a similar frame of mind in the run up to their second fight.
During an interview in Cologne he spoke of taking drugs and his battle for acceptance, but it was comments about the fight game and his conditioning – he looked 56lbs (25kg) overweight - which caused the biggest stir.
"I don't like it," he said. "I've done what I've got to do now and I want to get out of it. That's it. As soon as I can get out the better."
Despite winning the world title, Fury still considers himself an outsider and reiterated his desire to retire from boxing.
"I've got no different friends than I've had all my life. Just the same person, a simple person. Don't live an extravagant lifestyle.
"Just want to be left alone in peace, really, so I can have a chicken sandwich. I've said it a lot of times, haven't I?
"So, it must be true, what I'm saying. After this fight I'll have enough money to retire and there'll be no motivation to carry on."
Fury bamboozled Klitschko in their first fight, winning the title by a unanimous points decision, but he claims he doesn't care whether he wins or loses their rematch.
"Win or lose, I don't know what's going to happen - I'm sick of it," said Fury. "I'll tell you what would be funny - if I turned up in this shape for the fight. I'd be f****d after five rounds."
READ MORE: Fury-Klitschko rematch confirmed for July 9 in Manchester
While Fury is known to enjoy playing mind games with his opponents, his camp appear genuinely concerned about their fighter and the threat posed by Klitschko.
"This is a genuine 50-50 fight. Klitschko knows what to expect," his trainer and uncle, Peter, told Sky.
"Tyson knows what to expect. Knowing Tyson so well and knowing boxing a little bit, I see a stoppage in this fight. I don't see it going to the distance.
"I'm not a man to exaggerate my words. This is the way I see this fight panning out for either man.
"You are one punch away from disaster in heavyweight boxing. It's what makes it so exciting for everyone around the world. Enjoy the fight and may the best man win."
While Fury appears at odds with boxing, one man who knows where he's heading is Carl Frampton.
The Irish fighter confirmed on Twitter last week that he will challenge Leo Santa Cruz for the WBA featherweight title.
It has now been confirmed the fight between the unbeaten duo will take place on Saturday July 30 at the Barclays Center in New York.
Frampton took his record to 22-0 with a split-decision victory over Scott Quigg in February, while the three-weight world champion Mexican fighter has 32 wins and a draw from his 33 bouts.
The IBF and WBA super-bantamweight champion is stepping up a weight to take on Santa Cruz as he bids to emulate his manager Barry McGuigan in winning the featherweight crown.
"It's fitting that I will have the chance to recapture this title. This is the fight I wanted and I'm 100 percent confident that the belt will be coming home to Belfast. Santa Cruz is a strong and aggressive undefeated champion but his style is made for me," Frampton said.
"Myself and my team have been chasing this fight for a long, long time and that's because we know we have the tools to beat Leo. He throws a lot of shots and is a proven operator. It's going to be a great fight."
You can share this story on social media: