'Beaten by a fat man': Fury taunts Klitschko ahead of rematch (VIDEO)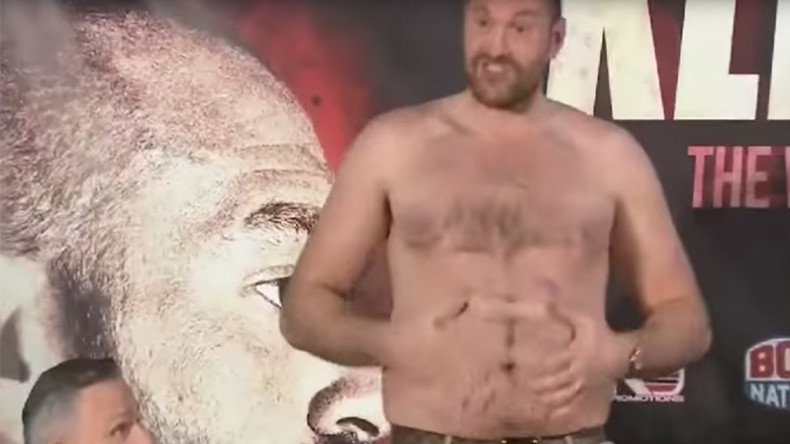 Tyson Fury has said Wladimir Klitschko "let a fat man beat him" and that the Ukrainian should be ashamed of himself, as the trash talk started ahead of the pair's rematch in Manchester on July 9.
At a press conference for the fight, 27-year-old Fury stripped to the waist and grabbed at his stomach, saying: "Does that look like a fighter's body? Clearly not," before adding, "Shame on you… you let a fat man beat you" while turning toward his Ukrainian opponent.
The press event saw Fury in a boisterous mood, with the Manchester boxer also saying, "I don't even live an athlete's lifestyle... It's a disgrace to call me an athlete."
"Fat as a pig, 30st, I could beat him [Klitschko] here and now."
Fury defeated Klitschko in November last year to become the WBA, IBF and WBO heavyweight champion.
READ MORE: Tyson Fury stuns Wladimir Klitschko to become world heavyweight champion
The outspoken Brit claimed, however, that he was "hating every second" of being a world champion.
"Boxing doesn't mean a lot to me…If it did, I wouldn't have gone into camp four stone overweight, I wouldn't have eaten every pie in Lancashire, and drunk every pint of beer in the UK.
"I wish I wasn't a boxer... I hate every second of training... and I hate speaking to all you idiots... I'd rather be at home with the kids watching television and eating sweets.
"But I'm just too good at it to stop. It's easy money knocking over a few bums.
"I'm not motivated for the fight... I hope he winds the clock back 30 years and puts me into next week... Then I can retire, get fat and go on loads of holidays."
Before being beaten by Fury in Dusseldorf last year, Klitschko had been undefeated for 11 years.
The Ukrainian criticized Fury for his views on women and homosexuals, and said all those who think like him should "F*** off."
READ MORE: Fury-Klitschko rematch confirmed for July 9 in Manchester – reports
This time Fury will be on home ground in Manchester, and should he defeat 40-year-old Klitschko again, a bout with fellow Brit Anthony Joshua will surely be on the cards.
You can share this story on social media: