Tyson Fury stuns Wladimir Klitschko to become world heavyweight champion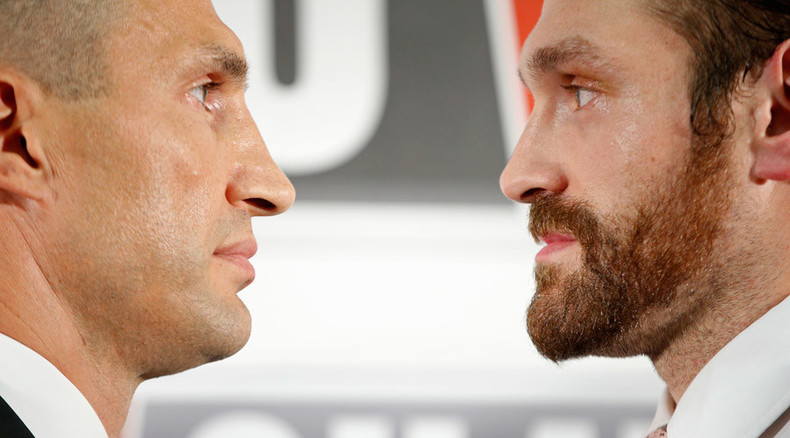 Britain's Tyson Fury, 27, beat Ukraine's Wladimir Klitschko, 39, by a unanimous decision over 12 rounds to win the three main titles and become the world heavyweight boxing champion in Dusseldorf on Saturday night.
The fight was cagey and messy, with Fury's greater speed, reach and ambidexterity proving too much for the nine-year defending champion.
Klitschko started defensively and could not get out of his shell from the first round. Fury found the opening rounds easy going and by the fourth those in attendance realized Klitschko simply wasn't aggressive enough to win the 12 rounds, and in current form would find a knockout blow impossible to land.
By the time Klitschko came out of his shell in the ninth round, he still wasn't forward enough, and Fury, now tiring, fought a defensive final four rounds (and got docked a point for rabbit punches) to win the fight. Fury, who was awarded the fight 115-112, 115-112, 116-111 on the judges' scorecards, is now the WBA, IBF and WBO champion.
Fury constantly tried to unsettle Klitschko during the build up to the fight, with posts on Twitter and comments to the press about how he was going to crush Klitschko. His methods included dressing up as 'Batman' in one press conference, impersonating Bette Milder in a public workout and posting the 'Watermelon' video on Twitter.
Fury thrived in the underdog role and took full advantage of it. Whether Fury got into Klitschko's head, or whether it was simply an issue of age versus youth, this was Fury taking a big step up in class. The British boxer did the unexpected, surprising Klitschko at the start of the fight, making sure he was unsettled enough not to unleash his famed right cross and taunting his opponent in the middle rounds.
In a fight where Klitschko was expected to control the bout and grind down his opponent, Fury reversed the tables by fighting smart, using unorthodox moves. Most importantly, he kept Klitschko pegged back for almost the entire fight, surprising the champion with moves like this:
After the fight Fury was magnanimous towards Klitschko, thanking him and referring to his pre-fight approach as 'fun and games'. He also performed a rendition of Aerosmith's I Don't Want To Miss A Thing to the delight of his fans in attendance.
There was talk of a rematch after the fight, but that may be premature. Fury's camp will be looking at a potential fight with America's WBC champion Deontay Wilder. A win over Wilder would make Fury the undisputed world heavyweight champion.
Deontay Wilder welcomed the speculation after Saturday night's fight, tweeting:
For now though, the aptly named Tyson Fury is the new world heavyweight champion, but he will find defending his title a tougher proposition than winning it now that he is no longer the underdog.