Atletico v Bayern: Simeone bids to add to Guardiola's semi-final woes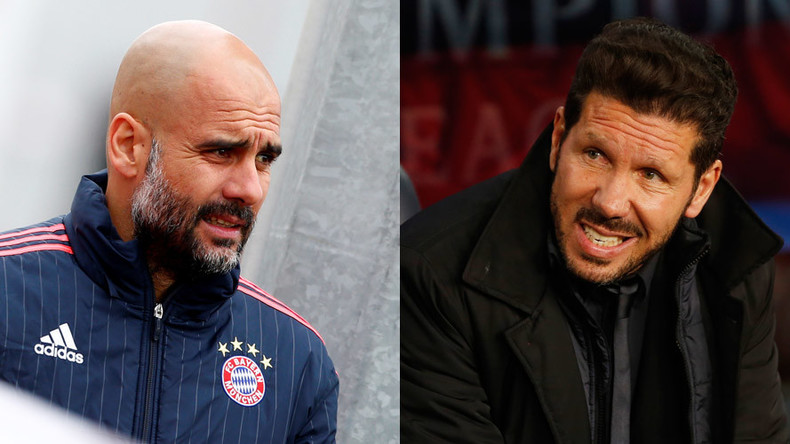 Wednesday's Champions League semi-final clash between Atletico Madrid and Bayern Munich is not only a meeting of two of the finest club sides in Europe, but also two of the best current managers in the game.
For Atletico it's Diego Simeone, master of the art of defending, against Bayern Munich boss Pep Guardiola, the man who embraced tiki-taka – the art of maintaining possession through short passing and movement – and took it to a whole new level.
Defeats by Spanish opponents in successive semi-finals will be a cause for concern for Guardiola, and Bayern's record of just two wins from their last 12 games in Spain bodes well for Atletico's chances.
While fellow semi-finalists Manchester City and Real Madrid have splashed the cash in search of Champions League glory, both Simeone and Guardiola have been significantly more prudent by comparison.
READ MORE: La Liga title race: Barcelona under pressure from Madrid duo

Over the past four seasons Manchester City have had the biggest outlay of this year's last four, spending a staggering $520 million.
Real have spent $456m during the same period, while Atletico ($320m) and Bayern ($298m) lag some way behind.
With Guardiola taking over at City next season, the tie against Atletico represents his last chance to reach a European final with Bayern.
Although he will leave the club with three successive Bundesliga titles under his belt, a failure in a third successive Champions League semi-final could tarnish his reputation.
Bayern are much like Guardiola's Barcelona were in the way they retain possession, but Atletico are a team who are quite happy to let their opponents have the ball and punish them when the chance arises.
The two teams' only previous meeting in Europe came in the European Cup final in 1974.
After fighting out a 1-1 draw at the Heysel Stadium, they returned to Brussels for a replay where Bayern ran out 4-0 winners.
Atletico have reached the semi-final stage on four occasions, winning two, while Bayern have won 10 of their previous 17 ties at this stage of the competition.
The Spanish side have not lost a semi-final tie at home, winning three and drawing one.
Simeone's team have lost once at home this term – 2-1 against Benfica in the group stages – but they have won 24 of their last 29 European matches at the Vicente Calderon Stadium.
Atletico's 1-0 defeat at Barcelona in the last round was their only away Champions League loss this season.
Bayern have drawn their last two away games 2-2 in the competition at Juventus and Benfica, while they have won only two of their last nine away games, losing on four occasions.
However, Guardiola's team boast an impressive home record in Europe so far this season, winning all five games by a combined scoreline of 19-3.
Both teams are in excellent form going into the game, with Atletico winning their previous five matches while Bayern are unbeaten in their last 11.
With Bayern having the advantage of the second leg in Germany they will be confident of success, but Atletico under Simeone are a tough nut to crack and they may just make it an all-Spanish affair against Real in the final in Milan on May 28.