'I am not retired': McGregor ends rumors, insists he is 'ready to go' for UFC 200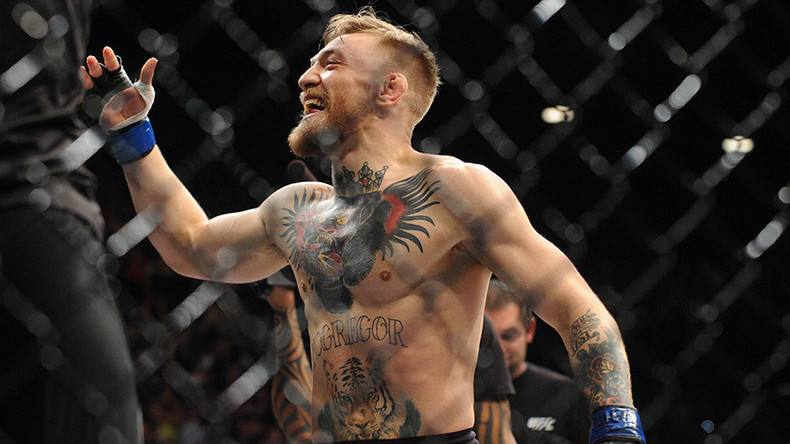 Conor McGregor has issued a statement in which he says he is not retiring and is still "ready to go" for UFC 200. In the Facebook post, the Irish fighter laments the promotional demands that have been placed on him, and says he "must isolate" himself in order to prepare properly for his next fight.
In a lengthy explanation of recent events – which have seen speculation rife over the fighter leaving UFC following a tweet in which he claimed to be retiring young – McGregor has set the record straight.
The Irishman states that he is "just trying to do my job and fight here," adding that "I am paid to fight. I am not yet paid to promote."
"I have become lost in the game of promotion and forgot about the art of fighting."
McGregor criticizes the promotional demands placed on his time, and says that his concentration is fully on preparing for his rematch with Nate Diaz, set for UFC 200 in July.
"It is time to go back and live the life that got me this life," McGregor writes.
"With the right adjustments and the right focus, I will finish what I started in that last fight.
"I will not do this if I am back on the road handing out flyers again.
"I will always play the game and play it better than anybody, but just for this one, where I am coming off a loss, I asked for some leeway where I can just train and focus. I did not shut down all media requests. I simply wanted a slight adjustment.
"But it was denied."
McGregor also hints that his earlier tweet stating he would be retiring from the UFC was merely aimed at promotion.
"There had been 10 million dollars allocated for the promotion of this event is what they told me.
"So as a gesture of good will, I went and not only saved that 10 million dollars in promotion money, I then went and tripled it for them.
"And all with one tweet."
It remains to be seen how the UFC will react to McGregor's latest announcement, and whether he will be on the bill for UFC 200.
Earlier in the day, McGregor had posted a tweet in which he promised to "release a statement shortly," fuelling further speculation over his possible retirement.
Rumors had been rife that the Irishman was planning to quit the UFC ever since he announced in a tweet earlier this week that he had "decided to retire young."
Following that, UFC chief Dana White confirmed that McGregor had been pulled from the bill at UFC 200 over his alleged refusal to fulfil his promotional duties ahead of the fight.
READ MORE: Conor McGregor announces retirement after being yanked from UFC 200
McGregor is well-known for his showboating, and has been a big draw for the UFC in recent years.
His rematch against Nate Diaz was a much-anticipated encounter on the UFC 200 card.
READ MORE: Nate Diaz overpowers Conor McGregor in a shocking win
Diaz defeated McGregor after the Irishman moved up a weight division at UFC 197.
Prior to that, McGregor had been on a blistering run of victories, with his 13-second knockout of Jose Aldo in December making global news.