Conor McGregor announces retirement after being yanked from UFC 200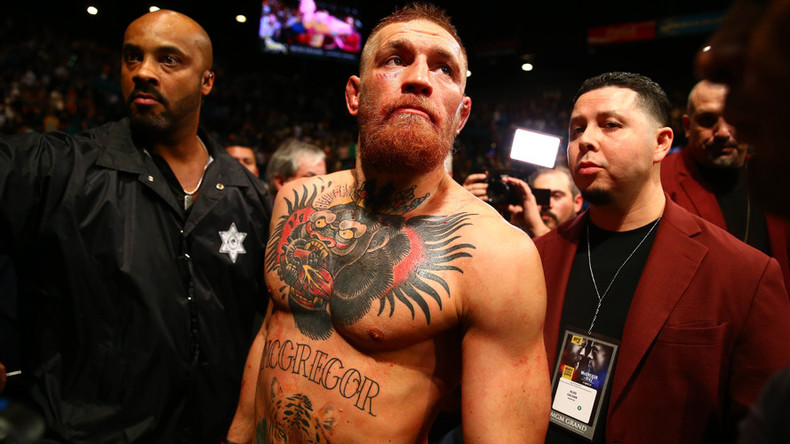 Irish fighting sensation Conor McGregor has shocked the world by announcing his retirement and it has been confirmed that he has been pulled from his scheduled bout at UFC 200.
The outspoken fighter was set to face Nate Diaz in an eagerly anticipated rematch in June, but took to social media to announce that he was stepping away from the sport.
UFC President Dana White has confirmed that McGregor refused to promote his upcoming bout against Diaz and has been subsequently pulled from the clash in Las Vegas.
"Conor didn't want to come to Las Vegas and be part of any promotional training," he said.
"He's in Iceland training. He felt leaving right now would hurt his training. But every other fighter on the card is coming."
White added: "It doesn't make you exempt. We spend a lot of money on this stuff."
White was asked if he could confirm whether McGregor was retiring from UFC, but stated that all he knew was that his rematch with Diaz was off.
"Is Conor McGregor retiring? Only he can answer that question. I don't know. But he will not be a part of UFC 200," he said.
"Obviously we still have a good relationship with Conor. I respect Conor as a fighter and I like him as a person. But you can't decide not to show up to these things. You have to do it."
McGregor is seen as the posterboy of the mixed martial arts sport and has gained cult status with fans over the years.
His 13-second knockout of Jose Aldo made global news, while he was surprisingly beaten by Diaz after moving up weight division at UFC 197.
McGregor's coach John Cavanagh has added fuel to the fire by also taking to social media with a suggestion that the fighter is walking away from the sport.
It remains to be seen just who will step into the void to fight Diaz, who has been verbal over McGregor being allowed a rematch in the first place.
The American stepped into the breach at short notice himself at UFC 197 and looks set to have a new opponent in June.
Just whether McGregor's claims of retirement are legit or a ploy remains to be seen.
The Irishman is renowned for his bullish antics away from the fighting action and has declared himself as a UFC Hall of Fame member on Twitter in the past.
An official announcement or clarification from McGregor's camp is expected in the near future, but for the time being the outspoken fighter will not feature at UFC 200 and appears set to spend time on the sidelines.