New kid on the block: Anastasia Yankova vying to outdo Rousey's rep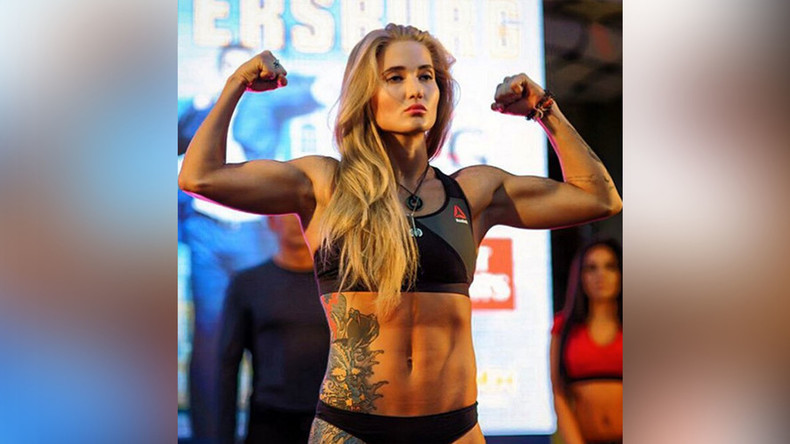 While Ronda Rousey, Holy Holm and Miesha Tate jostle for position as the leading names on the women's MMA fight scene, there is a new kid on the block who could be set to grab the public's imagination.
Muay-Thai champion Anastasia Yankova joined UFC's rival promotion Bellator earlier this year and her fighting style, personality and beauty has already seen her compared to Rousey.
In a recent interview with AXS, the rising Russian star admitted she was honored by such comparisons.
"Ronda has done so much for this sport - she is not just a talented athlete but is also a powerful personality," Yankova said.
"She doesn't try to be something she's not, she's genuine, and you may like her or you may hate her, but she is genuine, that's what I think at least.
"But I have a long ways to go to reach her level of grappling. But I have the will to do it and time to do it, so let's wait and see what happens."
Yankova is scheduled to make her Bellator debut in Italy this weekend against Anjela Pink. Despite her opponent having no professional wins to her name, the Russian has trained intensely for the fight.
"I train jiu-jitsu three times a week, grapple four times a week, round out with two sessions of Muay-Thai and of course I spar," said Yankova.
"So as you can tell most of my training is geared towards improving my grappling game. I have a long way to go, but grappling interests me and I find it a lot of fun to learn something new."
Successful in her two MMA fights to date, Yankova has a strong background in a variety of combat sports.
She took up karate aged six in Moscow and competed in Kyokushin karate until she turned 14. Yankova took some time to concentrate on her studies, before taking up Muay Thai aged 19.
After developing her skills in competition, she realized a switch to MMA could offer a route to fame and fortune.
"MMA for me right now is a new challenge. This is not what I was doing before. That is a different sport," she said.
"Kickboxing is a gentlemen's duel. When the opponent falls, the referee stops the fight. In the MMA when the opponent falls, your task is to ensure they don't get up until you win.
"Cage - this is something quite different than the ring - and it is absolutely new for me."
Before joining Bellator Yankova received offers from elsewhere, including the UFC, but with other Russian champions on the roster she believes she has made the right decision.
"I will try to help Bellator overtake the UFC and hold the first tournament in Russia," she added.
"Andrey Koreshkov, Vitaly Minakov are now champions of the organization and a lot of people will come to a Bellator show in Russia. I would also like to participate in it.
"In our country, the industry is not as developed as in America. I think it's a matter of time. There are many talented people who develop MMA in Russia and I am sure that after a while a lot more people will watch and love MMA."
As with Rousey and others in the UFC, Yankova hopes to change people's views of female fighters and gain respect not only for her looks, but also her combat skills.
"I want to show the strength of Russian women in the martial arts. And I want to promote this sport and save it from empty stereotypes." she said.