Ovechkin scores hat-trick to land 6th Maurice Richard Trophy (VIDEO)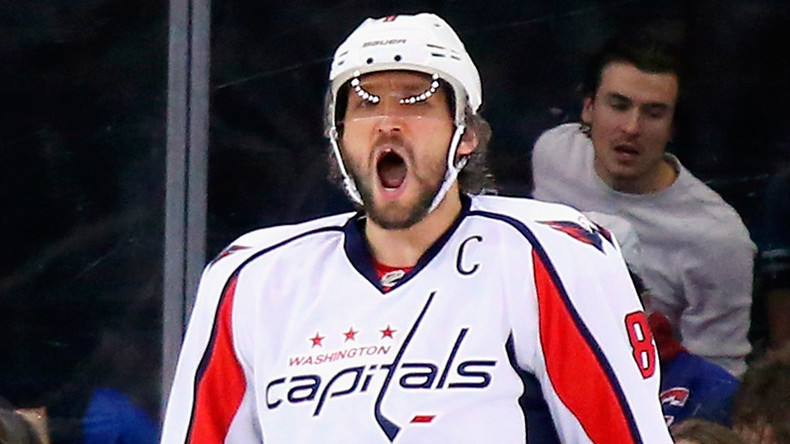 With three goals against the St. Louis Blues, Alex Ovechkin ensured his seventh 50-goal season. And with one game still left to go, he heads into the Stanley Cup playoffs with his sixth Maurice Richard Trophy safely in the bag.
Only two players in the history of the NHL have more 50-goal seasons on their list - Wayne Gretzky (9) and Mike Bossy (9). But Ovechkin is the first to achieve the feat three seasons in a row on two occasions.
The Great Eight still has some way to go to catch Greztky, with the legendary Canadian forward bagging 894 goals during his career. Ovechkin now has 525 – but he is still only 30 and has plenty of time to overcome that record.
With one more game to play in the regular season, the Russian is now set to finish first as the NHL's leading goalscorer, in front of Chicago Blackhawks forward Patrick Kane (46 goals).
Ovechkin, Pavel Bure and Ilya Kovalchuk are the only Russians to get their hands on the trophy – which was first awarded in 1999 – although Alexander Mogilny finished joint-top scorer in the NHL with Teemu Selänne in 1992/93.
The Capitals clinched the Presidents' Trophy as the team with the best overall record this season, and now will face the Philadelphia Flyers in the first round of the playoffs.
This season they have met the Flyers on four occasions, recording two victories and two losses – which suggests the series between the well-known bitter rivals is going to be a thriller.
The Washington squad is believed to have the best chances of winning the Stanley Cup this season. They have their strongest offensive line in recent years, solid defense, and Braden Holtby in the net – who has won 48 games this season, tying the record for the most wins with goaltending legend Martin Brodeur.
The Capitals only previous appearance in a Stanley Cup Final was back in 1998 against the Detroit Red Wings. The Capitals lost the best-of-seven match-up 4-0, as the Red Wings eased to a ninth Stanley Cup crown.