South African stopper proves goalies are crazy (VIDEO)
Published time: 27 Mar, 2016 12:40
Edited time: 27 Mar, 2016 13:11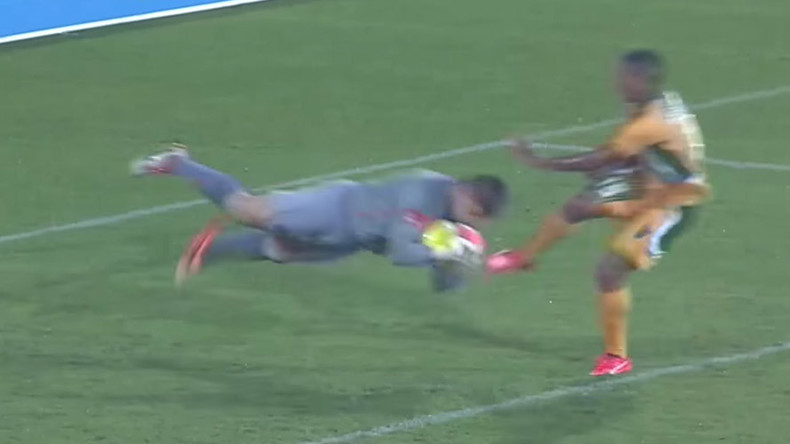 People say you must be mad to be a goalkeeper, but one South African Premier League stopper has taken that to a whole new level.
Maritzburg United goalkeeper Glenn Verbauwhede invites opposing players into his penalty box by refusing to pick up the ball.
As they close in, he deliberately dives at their legs head first while snatching up the ball, hoping the referee will think the resulting crash was his opponent's fault.
While the strategy might appear to be one of the daftest in the history of the game, it appears to be working, as Verbauwhede has already managed to convince one referee to book a Golden Arrows player.
Whether the likes of Manuel Neuer, Gianluigi Buffon, or David de Gea ever adopt the tactic remains to be seen, but Verbauwhede has certainly put himself near the top of the crazy goalkeeper list.
Ex-Liverpool keeper Bruce Grobbelaar's wobbly legs antics in the 1984 European Cup Final against Roma could also be argued to border on craziness.
And many would, likewise, question the sanity of German goalie Harald Schumacher's "challenge" to French player Patrick Battison during the FIFA World Cup tournament in 1982.
However, former Colombian keeper Rene Huguita may have the strongest case in arguing that he's the craziest goalie in history after his antics with the Scorpion Kick.