2 dead in violent clashes between Moroccan football fans (VIDEO)
Published time: 21 Mar, 2016 16:28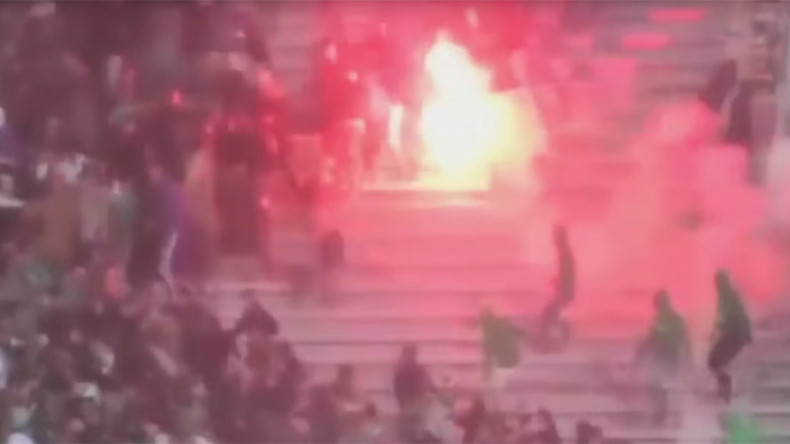 Two people were killed and dozens more injured in Morocco's largest city on Saturday, when rival fans of its Raja de Casablanca football club came to blows after a home game.
Fans threw flares and tore up parts of the Mohammed V stadium, despite their team claiming a 2-1 victory over Chabab Rif Al Hoceima.
It is unclear how the violence started, but footage on Moroccan media shows the fans, dressed in the club's green colors, charging at each other.
A statement issued by Morocco's DGSN security service said 31 people were arrested after the match for involvement in "acts of vandalism," with 10 people arrested prior to the game for the same reason.
Raja fans have a history of violent behavior. In 2013, more than 200 people were arrested after clashes with fans of FAR Rabat, while a year ago a man died in the central city of Khouribga during fights between supporters of the local club and Raja followers.
Raja were sanctioned by the Royal Federation of Moroccan Football, which said it 'deplored' the violence.
The club has previously been sanctioned, along with rivals Wydad Casablanca and their fans, for repeated acts of violence both during and after matches.
The team will play behind closed doors for their next five games, and must pay a fine of 100,000 Moroccan dirhams ($11,000).
Turkish football was also in the spotlight over the weekend, after authorities called off the Galatasaray-Fenerbahce derby in Istanbul just two hours before kick-off on Sunday.
The Istanbul governor's office confirmed the match was postponed following "the assessment of serious intelligence," but didn't provide details.
It said the decision was made following "the request and the agreement" of the bitter rivals.
Turkey is currently in state of heightened security after an Islamic State-linked (IS, formerly ISIS/ISIL) suicide bomber killed himself and four foreign tourists on Istanbul's main shopping street on Saturday.
There have now been six suicide bombings in Turkey since July that have either been blamed on IS or claimed by Kurdish militants.
Fans had initially been told the game would be played behind closed doors, but following protests from aficionados inside the stadium the decision was taken to delay the fixture.
Turkey's national team has also been affected by the security alert, with Monday's training session for their upcoming games against Sweden and Austria switched from Istanbul to the city of Antalya.