A tale of two underdogs: Rostov, aka 'Leicester-on-Don,' take Russian Premier League by storm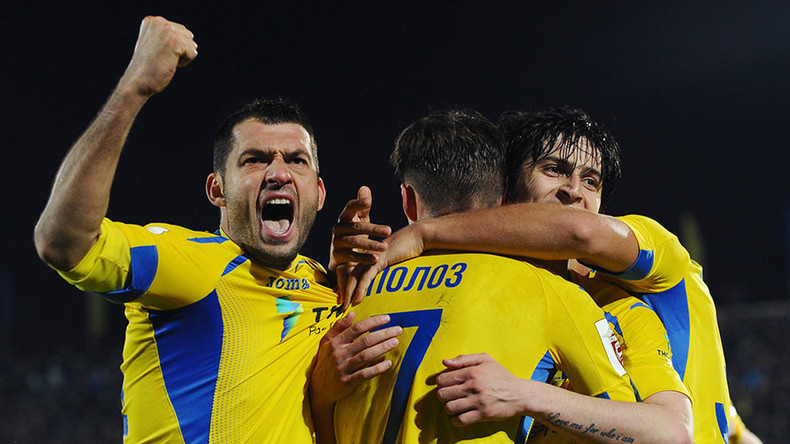 While English Premier League leaders Leicester City continue to grab headlines around the world for their remarkable title bid, in Russia a similar story is developing in the form of FC Rostov's rise to the top of the table.
Leicester may not be the only team with claims to the 'ultimate underdog' tag this season, as FC Rostov, from the southern Russian city of Rostov-on-Don, are transforming themselves from relegation strugglers to serious title contenders.
Rostov were just two games away from going down last season, but managed to hang on to their Russian Premier League status thanks to a play-off win at the end of the season.
Perhaps more famous for producing tractors than league-winning football teams, the city on the banks of the Don River has never had a team that has won Russia's top football prize.
However, that might all be about to change and with 10 games to go, Rostov find themselves top of the Russian Premier League – well-placed to pull off a shock of similar seismic proportions to the one Leicester City are plotting in England's top tier.
The similarities in the two stories have earned Rostov the tags "Leicester-on-Don" and "the Russian Leicester" from the country's fans and media.
Rostov's improbable rise to the summit of Russian football was confirmed when they defeated Moscow giants CSKA 2-0 in their top-of-the-table clash at Rostov's Olymp-2 stadium on Saturday.
That result saw them leapfrog their Moscow opponents into first place in the table, with both teams level on 40 points, but Rostov top by virtue of their superior head-to-head record.

Now that Rostov sit proudly at the top of the league, expectations are growing that they could go all the way and claim one of the biggest upsets Russian football has ever seen.
So, who exactly are Rostov, and how do they compare to fellow headline-makers Leicester?
Rostov and Leicester – outsiders defying the odds
The Rostov story has led to inevitable comparisons with Leicester, and indeed the Russian club's story does mirror that of the Foxes in many respects.
Like Leicester, Rostov spent most of last season mired in a relegation battle. They were just two games away from going down, before finally prevailing in a relegation/promotion play-off against lower-league Tosno.
Leicester are also no strangers to brushes with relegation, having occupied bottom-spot for most of last season before a stirring late run propelled them to Premier League safety.
The Foxes have improved massively this season under the guidance of 64-year-old manager Claudio Ranieri. His experience and shrewd tactics have allowed Leicester to develop a hard-pressing, full-throttle style that accentuates their strengths.
Rostov have an equally canny tactician at the helm in the form of Kurban Berdyev. During his decade as manager of Rubin Kazan, 63-year-old Berdyev led an unfancied team to back-to-back Russian Premier League titles in 2008 and 2009, and masterminded Rubin's famous 2-1 Champions League victory over Spanish giants Barcelona at the Nou Camp in 2009.
Berdyev shares Ranieri's tactical nous, and although his Rostov side play a more defensive game than the Foxes, they are capable of scoring quick, Leicester-like countering attacking goals, as they did in the 2-0 win over CSKA on Saturday.
Possible bankruptcy
As with Leicester, Rostov are relative financial minnows punching well above their weight.
Although Leicester are owned by Thai billionaire Vichai Srivaddhanaprabha, they have spent nowhere near as much as Manchester City, Chelsea or football's corporate giants, Manchester United.
Similarly, Rostov cannot afford to spend like the big Moscow clubs, not to mention Zenit St. Petersburg – backed by the financial clout of Gazprom.
What makes Rostov's story perhaps even more remarkable is that their success has been played out against a backdrop of financial woes.
In November 2014, the Russian press reported Rostov players had gone five months without receiving their salaries.
Just this week, it emerged that a creditor is asking for Rostov to be declared bankrupt, according to TASS.
Long history, but no big league success
Both clubs have similarly long histories, with Leicester founded way back in 1884 (under the name Leicester Fosse), and Rostov's origins dating back to 1900 (when the club was known as Selmashstroy).
However, neither side has ever won the top league – with a second-place finish in 1929 the closet Leicester have come, and Rostov's best top-tier finish being sixth back in 1998.
Leicester's only real successes of note in recent years are League Cup wins in 1997 and 2000.
Rostov's only silverware recently was a Russian Cup win in 2014, which earned them a shot at entry into the Europa League - although Turkish side Trabzonspor defeated them in the qualifying rounds.
'No superstars in our team'
Leicester's squad is a mix of journeymen and players from Europe's lower leagues. Jamie Vardy, Riyad Mahrez and N'Golo Kante are examples, who have performed in ways no one would have expected in helping their team reach the top.
Rostov also have a group of lesser-known players and certainly have nothing to compete with Zenit's array of international stars such as Hulk, Danny, and Axel Witsel, or the well-established Russian national team players at CSKA.
However, in a telephone interview with Reuters, Rostov midfielder Alexander Erokhin explained what makes the team so strong.
"Maybe there are no star names in our team... But a good blend of youth and experience is giving us good results. We go out to play each match as though it is our last and this is why we are constantly managing to pick up points."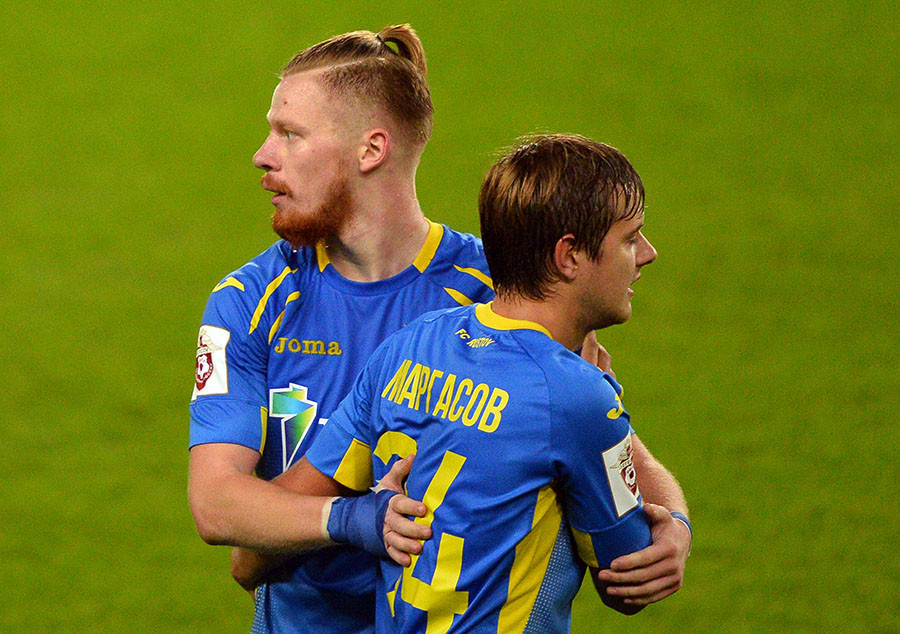 While Leicester's rise has been reflected in striker Jamie Vardy's call-up to the England team, Rostov's success has not met with similar recognition from Russian national coach Leonid Slutsky.
No players from Rostov are in the squad for the upcoming friendlies against Lithuania and France. There's a chance Rostov won't be represented when Russia meet England in their Euro 2016 group match in Marseille, France, on June 11.
In fact, the most famous ever Rostov player for most English fans is probably former Tottenham man David Bentley, who made seven loan appearances for Rostov in 2012.
How will it end?
As the English and Russian Premier Leagues reach the end of the season, fans in both Rostov and Leicester are allowing themselves to dream.
In Rostov, fans are reveling in the 'Leicester-on-Don' tag, and the football world is starting to take note.


While the Leicester fairytale continued with victory over Newcastle on Monday night, extending their lead at the top of the Premier League, Rostov's next challenge is a trip to Amkar Perm on Friday night. Victory there would take them one step closer to the most unlikely of title wins.
Who knows - if things continue in the way they are, we might see Rostov against Leicester in the Champions League next season. Now that really would be the ultimate underdog story.