3 penalties, 2 red cards, and 1 mass brawl at Russian football match (VIDEO)
Published time: 16 Mar, 2016 23:27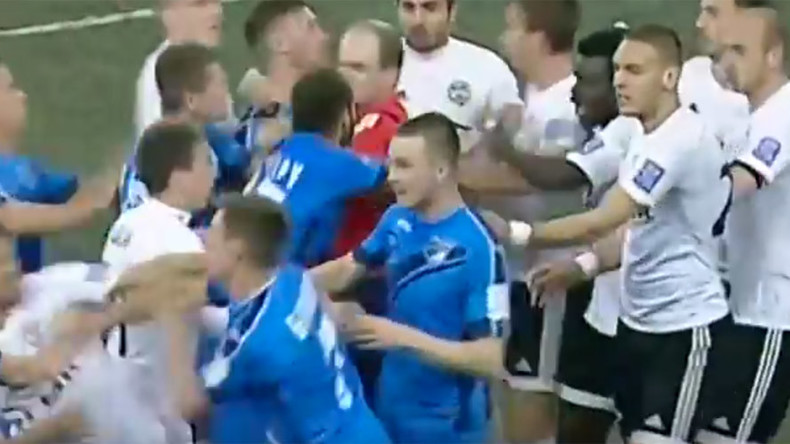 After having a rare three penalties awarded against them at home, footballers at second-tier Russian club FC Sibir and their guests from Torpedo Armavir, collectively lost their temper, provoking a brawl which referees could do nothing to bring under control.
Promotion-chasing FC Sibir were thought to have secured a solid 2-1 victory against relegation-zone Torpedo Armavir, when the referee awarded the guests a third penalty just two minutes before the end of normal time. To loud boos and whistles from the sparse Novosibirsk crowd, and with blue-clad Sibir players clutching their heads, Torpedo converted their penalty – having missed the previous one – and leveled the score.
The players returned to the center circle, but within seconds a clip by a Sibir player resulted in a Torpedo footballer aggressively pushing him to the ground. As his Sibir teammates stepped up to defend him, a free-for-all broke out.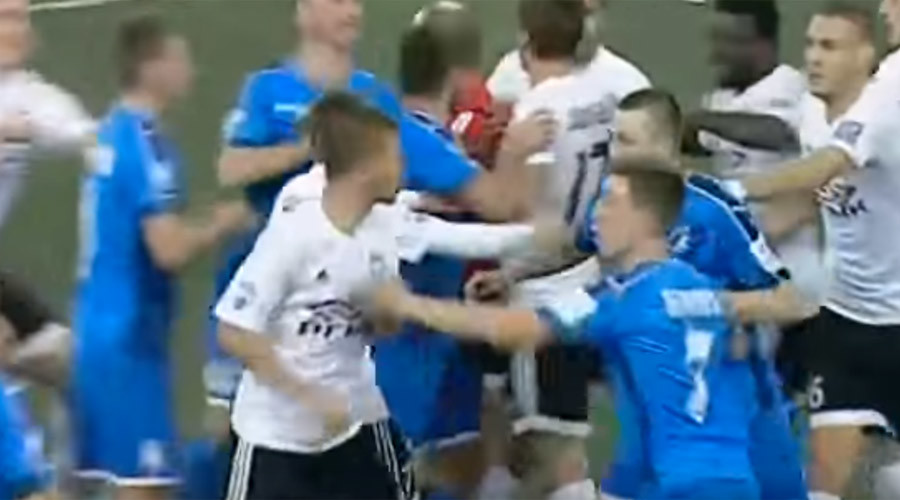 Although the camera was not able to capture all of the participants, in one moment a Sibir player can be seen trying to mount a much taller Torpedo adversary from a running start. In another, a footballer in white runs in, lands a kick, and scoots away, only to be caught by right hooks from two other players, standing in a full boxing stance. All the while, the slightly-built referee, Igor Nizovtsev, attempts to separate the teams, aided by his assistants and several peacemakers on both sides.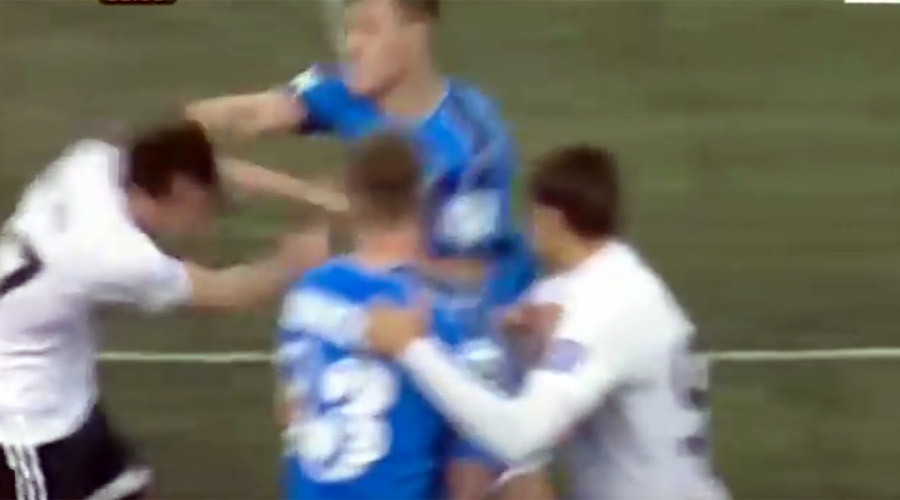 The sides finally separated, although not before Sibir coaches gave Nizovtsev an earful, and the referees huddled together for a lengthy consultation and dished two red cards. As a result, one Sibir player, and two white-kitted Torpedo players – including one who wasn't even on the field when the fight started – were removed from the pitch.
The final 2-2 result satisfied neither Sibir, nor Torpedo, which is managed by the highly-paid former Russian football legend Valeri Karpin. Further suspensions are likely to be announced, based on a video review.