Count Costa? Chelsea FC star denies 'vampire' bite on opponent (VIDEO)
Published time: 13 Mar, 2016 12:13
Edited time: 13 Mar, 2016 15:10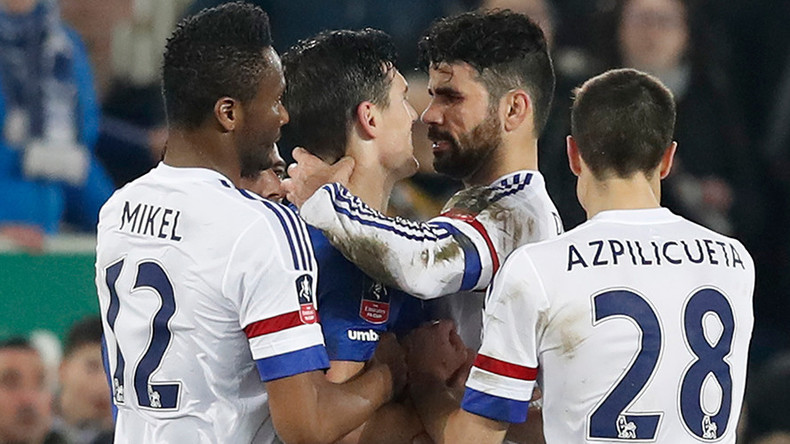 Chelsea were already about to be dumped out of the English FA Cup by Everton, when their hot-headed forward Diego Costa was dismissed for a scuffle where he appeared to bite an opponent.
The £150,000-a-week (US$215,000) striker took umbrage at a tackle from Everton's Gareth Barry, squaring up to the midfielder before stretching his jaw over his neck like a vampire.
But the Chelsea striker - who could be slapped with a lengthy ban over the incident - has denied making contact with his opponent, saying through a club statement that "he did not bite him at any point during the altercation."
The internet doesn't seem to care either way about what really happened, though, and the footballer is already being immortalized in the form of online memes and photo-mockups.
Some people have speculated that the 'non-bite' may have been a show of affection.
READ MORE: Riot police intervene as Spurs & Arsenal fans clash at White Hart Lane (PHOTOS, VIDEO)
Harshly, the Spain international has even been compared to Hannibal Lector, the fictional masked cannibal who feasts on the flesh of his victims.
The incident is similar to the infamous World Cup bite involving Barcelona and Uruguay forward Luis Suarez.
Suarez was given a four-month suspension from the game in 2014, after he was caught sinking his teeth into an Italian defender.
Italy's Giorgio Chiellini fell down on the pitch in apparent agony, clearly outraged at Suarez's opportunist nibble.
Despite the drama, Chiellini later tweeted that he bore "no feelings of joy, revenge or anger" against his assailant.