Leicester City: 6 things the underdog story tells us about the Premier League
Published time: 10 Mar, 2016 15:13
Edited time: 11 Mar, 2016 06:05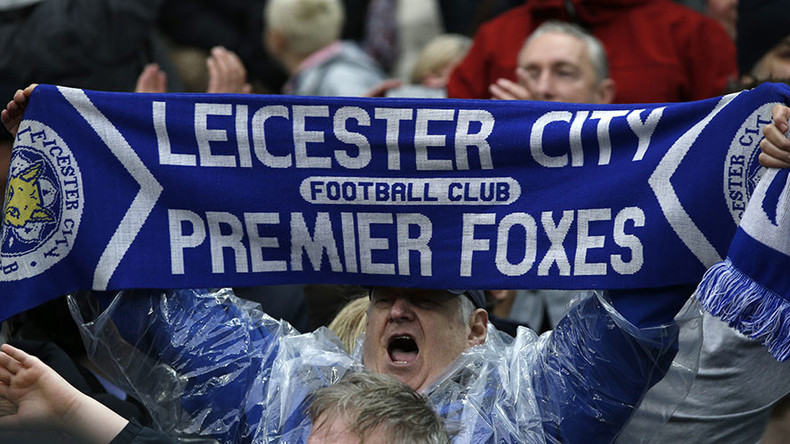 Leicester City head the Premier League with nine games to go, and stand a very real chance of pulling off one of the biggest shocks in football history. As the story makes headlines around the world, we look at what the club's success says about England's top tier.
While a lot can still happen in the nine remaining games of the season, Leicester's five-point lead at the top of the table means they are well-placed to cap a remarkable campaign with what would be the greatest title win the Premier League has ever seen.
Thousands of column inches have been devoted to Leicester's improbable rise from relegation fodder to title contenders, but here we take a look at six things that make this success story so special, and what it tells us about English football as a whole.
1. Sometimes the experts get it very, very wrong
At the start of the season, the odds on Leicester winning the title were 5,000-1 with some bookmakers. In fact, one punter who put £40 ($57) on the Foxes to win the league stands to win £200,000 ($285,000) if they can finish the job.
Those backing Leicester at the start of the season were very much in the minority, however, and the consensus among a large number of 'experts' in the football world was that Leicester would get relegated.
Of 11 Guardian newspaper sports writers, all but two tipped the Foxes to go down this year.
Similarly, five out of 10 writers at the Telegraph had Leicester down as relegation candidates, while the BBC's chief football writer, Phil McNulty, also predicted they would be doomed to the drop.
However, a nationwide YouGov poll showed that back in August, 24 percent of football fans thought Leicester would go down – a significant number, but still one that indicated the large majority of fans thought the Foxes would stay up.
Leicester have undoubtedly confounded expectations, and it's worth remembering that at this stage last season they were mired near the bottom of the table and facing a scrap for Premier League survival. But their form at the end of last season – which saw them win seven of their last nine games to rise from rock-bottom of the league to safety – should have indicated that they would be destined for better things, even if few could have predicted their rise would be so spectacular as to see them pushing for the title.
Leicester's success shows just how wrong the so-called experts can be.
2. Money isn't everything
In the recent game against Arsenal, the combined value of Leicester's starting 11 was £22.29 million, compared to the Gunners' £150 million line-up.
Even Arsenal's wealth pales into comparison with the two Manchester clubs: Louis van Gaal has spent over £250 million since becoming United boss in May 2014, while Manchester City can field a side worth more than £300 million. Kevin De Bruyne at £55 million and Raheem Sterling at £49 million each cost twice as much as the entire Leicester team.
But it's the Foxes that have the two players of the season in Jamie Vardy and Riyad Mahrez. Vardy cost £1 million when he signed from non-league Fleetwood Town in 2012, and Mahrez joined Leicester for a mere £400,000 from French side Le Havre in January 2014.
The 25-year-old Algerian has been a sensation this season, with 15 goals and 11 assists.
Vardy, meanwhile, has scored 19 goals – in the process breaking the Premier League record of 11 straight goalscoring games.
The Leicester team as a whole is a motley crew of journeymen and unsung heroes, ranging from veteran center back pairing Robert Huth and Wes Morgan (both in their 30s), to midfielders Danny Drinkwater (cast aside by Manchester United in 2012 and bought by Leicester for £1 million - and now in contention for the national team) and N-Golo Kante (a revelation since being brought in from French side Caen for £5.6 million in the summer), and left back Christian Fuchs (a free transfer from German side Schalke).
The Leicester side has gelled wonderfully since the appointment of Claudio Ranieri (widely questioned at the time), and the Italian's gentle guiding hand and tactical nous have allowed the team to flourish.
So clearly money isn't everything, and success can be created with the right blend of experience and shrewd recruiting, rather than simply being bought. The big clubs should take note.
3. The gap between the 'bigger' and 'smaller' clubs is closing fast
Several clubs will be looking at Leicester and thinking, "If they can do it, so can we." In particular, West Ham are just one place off a Champions League spot, and with the increased revenues that will come from their move to the Olympic Stadium next season, they will surely be eyeing a breakthrough of Leicester-sized proportions.
Likewise, Southampton and Stoke are both capable of putting winning runs together that could see them end up close to the European places this season.
Tottenham have made big strides under Mauricio Pochettino, and are challenging for the league - a story which in any other year would have gained much more attention. With their inspirational manager and dynamic young squad, Spurs look set to be a formidable force for years to come.
Similarly, although they have underperformed this campaign, Everton will be looking for better things next season, and with their abundance of young talent could challenge higher up the table. The Toffees also now have the backing of Iranian billionaire Farhad Moshiri, whose financial clout could bring bigger names to Goodison Park.
That is to say nothing of Chelsea and Liverpool – both of whom will want to put indifferent (make that "disastrous" in the case of Chelsea) seasons behind them and start anew in the summer.
All sides are also set to benefit from the £5.1 billion, three-year TV deal that kicks in next season. The money will be distributed far more evenly than in the case of the Spanish La Liga – where giants Barcelona and Real Madrid command far larger TV revenues than their smaller counterparts – and even the 20th-placed Premier League club is set to gain £99 million next season. If spent wisely, the smaller clubs could rise up the table, à la Leicester.
READ MORE: Have TV billions made the English Premier League more competitive?
All of this means that instead of the usual two or three teams that can safely be predicted to fight for the title, there are now at least five or six genuine contenders –making for a much more exciting league.
4. The top English sides are weaker than they were
Allied to the point above about the narrowing gap between big and small clubs, it's also true that England's top teams are underperforming.
While Leicester fully deserve their league position and have played some fantastic football this season, it's also true they have faced weakened competition from all the big sides.
Chelsea have had a catastrophic season; Manchester City's expensively assembled squad have been woefully inconsistent; Arsenal have again flattered to deceive; Manchester United have been dull under van Gaal; and Liverpool have been largely anonymous.
The diminishing powers of England's top sides is reflected in their European performances – only Manchester City stand a realistic chance (on a good day) of doing anything in the Champions League this season, and Barcelona dismantled Arsenal in the first leg of their clash, proving the gulf in class between leading English sides and their European counterparts.
Last season English sides failed to reach the quarter-final stage of either the Champions League or Europa League, and no English side has contested the Champions League final since 2012 (compared with seven English finalists in the eight seasons before that).
The big clubs are not punching to their weight, leaving the gap open for teams that can find stability, consistency and a clear idea of the style of football they want to play – as Leicester have done.
5. Foreign ownership can bring success, if done the right way
Foreign owners of Premier League clubs are numerous, and in some cases have had a hugely positive impact – think Roman Abramovich at Chelsea.
However, foreign ownership has the potential to lead to disaster – prime examples are the situation at American-owned Aston Villa, currently rock-bottom and relegation certainties, and lower-level sides Leeds United and Blackburn.
This illustrates why Leicester's Thai owners Vichai Srivaddhanaprabha and his son Aiyawatt deserve praise for the way they have handled the club.
They have gone about their business discreetly, and have dealt effectively with any scandals they have faced, such as the end-of-season fiasco involving former manager Nigel Pearson's son, caught racially abusing Thai prostitutes in a leaked sex video. Pearson was dismissed with minimal fuss, paving the way for Ranieri's appointment.
They have also made small but shrewd gestures to keep the fans onside. Examples include the free beer for fans at a home game before Christmas, and the 30,000 free 'cardboard clappers' provided before games to crank up the volume at the King Power stadium.
This has helped to build the positive atmosphere at the club, and has provided a solid base on which the team has thrived. Other foreign paymasters would do well to take a leaf out of the Leicester owners' book.
6. The Premier League's claims to be the most exciting in the world have been bolstered
The Premier League is often touted as the best in the world – not least by those promoting it for self-serving financial purposes. However, the Leicester story shows that there is truth to the belief that England's top division may not be better in terms of quality, but is more exciting than its Spanish, German, Italian and French counterparts.
In Spain, Barcelona and Real Madrid score big wins almost every other week (see Real's 7-1 demolition of Celta Vigo and Barcelona's 4-0 win at Eibar on the weekend as proof of this); in Germany, Bayern Munich have won the league for the last three seasons, and are well-placed to make that four in a row this year; while in France, PSG are 23 points clear at the top.
In those leagues, most results involving the big teams are predictable, and there is little room for smaller sides to break into the elite group at the top of the table.
Italy's Serie A may be a little tighter, with Juventus and Napoli separated by three points at the top, but the pace of football is undoubtedly slower than in the Premier League, and the crowds far less numerous.
The Premier League's consistent ability to throw up shock results with the big teams being humbled by less-fancied opposition, such as Leicester, makes it far less predictable and much more exciting as a result.
The English Premier League is one of the best things to happen in world football

— Thula Dlamini (@KingCloudus) 13 февраля 2016
Another wacky set of results in premier league, so unpredictable, definitely best league in world, there is no argument

— Jason (@dikko17) 2 Март 2016
When it's impossible to predict the result of ANY game, it's not the worst Premier League season ever - it's the best. #WHUvLFC

— Piers Morgan (@piersmorgan) 2 января 2016
These factors have allowed the Leicester story to develop, and as we near the end of the season, football fans around the world will be rooting for the ultimate underdogs to finish the job. But whatever happens, Leicester have taught us some valuable lessons about the Premier League.