World Cup of Hockey 2016: Big names in as preliminary rosters announced
Published time: 3 Mar, 2016 23:32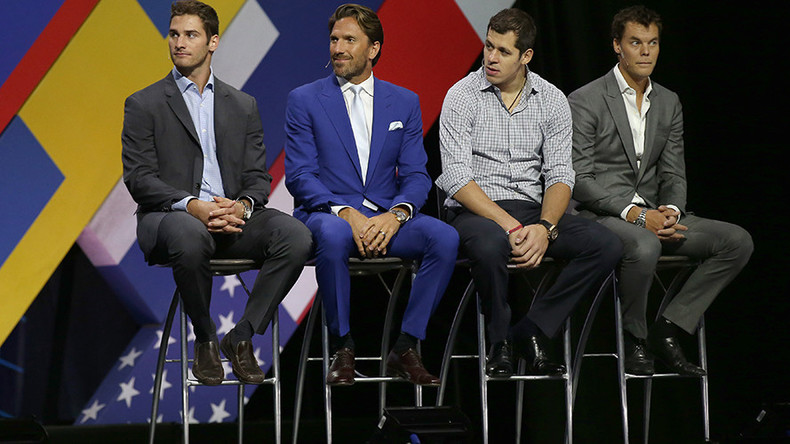 Washington Capitals captain Alex Ovechkin heads the list of names selected by Team Russia for the World Cup of Hockey.
Ovechkin is joined on the roster by his Capitals teammate Evgeny Kuznetsov, the Pittsburgh Penguins center Evgeni Malkin and the league's top rookie points scorer Artemi Panarin of the Chicago Blackhawks.
Russia will join Team Canada, Team Czech Republic, Team Finland, Team Sweden, Team USA, as well as Team Europe and Team North America – who will compete in the two-week tournament, which will feature more than 150 top NHL players.
Team Europe's roster will comprise players from European nations, excluding Sweden, Finland, Czech Republic and Russia, while Team North America will be made up of players aged 23-and-under from Canada and the United States.
Ovechkin said it was a huge honor to be chosen for the tournament and that he thinks Kuznetsov has a big future in front of him.
"It's nice to be in the list, and I'm proud to represent my country," he said. "Everybody knew he [Kuznetsov] had, like, talent to be one of the best players in the league.
"He's still young, obviously. In the future, he's gonna be more mature, have more experience, and I'm pretty sure 20 goals is just the beginning for him.
"He can score 40, you know, easily in this league if he's gonna continue what he's doing, and he's gonna be a top player."
Team USA has a familiar look, with 12 Olympians from Sochi 2014 named to their 16-man roster.
Forwards Patrick Kane, Zach Parise and Joe Pavelski, along with netminder Jonathan Quick and defenseman Ryan Suter, all played in the last two Olympics.
Ryan Kesler, TJ Oshie and Jonathan Quick also return, with John Carlson, Ryan McDonagh, Max Pacioeretty and Blake Wheeler completing the list of Sochi returnees.
Phil Kessel's omission from the squad is a major surprise, with the Pittsburgh Penguins star one of Team USA's top performers at Sochi 2014 with five goals and three assists in six games.
He has struggled for form with the Penguins this season and will need a strong end to the campaign if he's to make the final cut.
Sidney Crosby is the standout name on Team Canada's list, which also contains a dozen players who played in the last Olympic tournament.
Jonathan Toews and Drew Doughty join Crosby on the roster, while Montreal Canadiens goalie Carey Price has also been selected despite being out since November 25 with a knee injury.
GM Doug Armstrong said Price had asked to be picked, but knew he could pull out if necessary.
"We included him in the process," Armstrong said. "We wanted to make sure he was comfortable with the decision we were going to make."
"Carey Price is a huge piece for the Montreal Canadiens, so we wanted to make sure the Canadiens team and ownership was comfortable with the decision too."
Duncan Keith, Shea Weber, Jeff Carter and Ryan Getzlaf are other notable selections to the Canadian squad, while P.K. Subban and Corey Perry will hope to make the cut when the second round of picks are made.
Team Canada has won four of the last six international hockey tournaments including three Olympic golds in 2002, 2010 and 2014, and the World Cup in 2004.
Team Finland's bid to build on their recent successes at international level - they have won medals at the last three Olympics - will once again feature top netminding duo Tuukka Rask and Pekka Rinne.
"Finland has always had extremely good keepers," general manager Jere Lehtinen said. "Everybody fitted in their roles already in the [2014] Sochi Olympics. Everybody wants to play, but there will always be guys who won't be able to play. Everybody comes to this project and wants to wear the national team shirt so that there will be no problems. He who plays, will be supported."
Daniel and Henrik Sedin have been selected by Team Sweden, Anze Kopitar, Zdeno Chara and Marian Hossa are the top names on the Team Europe roster, while rising stars Dylan Larkin and Connor McDavid feature on the Team North America list.
Team Czech Republic boss Martin Rucinsky has left veteran Jaromir Jagr out of his initial 16-man squad, but is expected to ask the 44-year-old to pull on the international jersey for one last time in the autumn.
The World Cup of Hockey 2016 will take place from September 17 to October 1 in Toronto, Canada.
Team rosters:
Canada
Goaltenders:
Corey Crawford, Chicago Blackhawks
Braden Holtby, Washington Capitals
Carey Price, Montreal Canadiens
Defensemen:
Drew Doughty, Los Angeles Kings
Duncan Keith, Chicago Blackhawks
Marc-Edouard Vlasic, San Jose Sharks
Shea Weber, Nashville Predators
Forwards:
Jamie Benn, Dallas Stars
Patrice Bergeron, Boston Bruins
Jeff Carter, Los Angeles Kings
Sidney Crosby, Pittsburgh Penguins
Ryan Getzlaf, Anaheim Ducks
Tyler Seguin, Dallas Stars
Steven Stamkos, Tampa Bay Lightning
John Tavares, New York Islanders
Jonathan Toews, Chicago Blackhawks
Head Coach:
Mike Babcock
United States
Goaltenders:
Ben Bishop, Tampa Bay Lightning
Jonathan Quick, Los Angeles Kings
Cory Schneider, New Jersey Devils
Defensemen:
Dustin Byfuglien, Winnipeg Jets
John Carlson, Washington Capitals
Ryan McDonagh, New York Rangers
Ryan Suter, Minnesota Wild
Forward:
Justin Abdelkader, Detroit Red Wings
Patrick Kane, Chicago Blackhawks
Ryan Kesler, Anaheim Ducks
T.J. Oshie, Washington Capitals
Max Pacioretty, Montreal Canadiens
Zach Parise, Minnesota Wild
Joe Pavelski, San Jose Sharks
Derek Stepan, New York Rangers
Blake Wheeler, Winnipeg Jets
Head Coach:
John Tortorella
Sweden
Goaltenders:
Henrik Lundqvist, New York Rangers
Jacob Markstrom, Vancouver Canucks
Defensemen:
Oliver Ekman-Larsson, Arizona Coyotes
Victor Hedman, Tampa Bay Lightning
Niklas Hjalmarsson, Chicago Blackhawks
Erik Karlsson, Ottawa Senators
Niklas Kronwall, Detroit Red Wings
Anton Stralman, Tampa Bay Lightning
Forwards:
Nicklas Backstrom, Washington Capitals
Loui Eriksson, Boston Bruins
Filip Forsberg, Nashville Predators
Gabriel Landeskog, Colorado Avalanche
Daniel Sedin, Vancouver Canucks
Henrik Sedin, Vancouver Canucks
Alexander Steen, St. Louis Blues
Henrik Zetterberg, Detroit Red Wings
Head Coach:
Rikard Gronborg
Czech Republic
Goaltenders:
Petr Mrazek, Detroit Red Wings
Michal Neuvirth, Philadelphia Flyers
Ondrej Pavelec, Winnipeg Jets
Defensemen:
Radko Gudas, Philadelphia Flyers
Michal Kempny, Avangard Omsk (RUS)
Roman Polak, San Jose Sharks
Andrej Sustr, Tampa Bay Lightning
Forwards:
Michael Frolik, Calgary Flames
Martin Hanzal, Arizona Coyotes
Tomas Hertl, San Jose Sharks
David Krejci, Boston Bruins
Ondrej Palat, Tampa Bay Lightning
David Pastrnak, Boston Bruins
Tomas Plekanec, Montreal Canadiens
Vladimir Sobotka, Avangard Omsk (RUS)
Jakub Voracek, Philadelphia Flyers
Head Coach:
Josef Jandac
Finland
Goaltenders:
Tuukka Rask, Boston Bruins
Pekka Rinne, Nashville Predators
Defensemen:
Esa Lindell, Texas Stars (AHL)
Olli Maatta, Pittsburgh Penguins
Rasmus Ristolainen, Buffalo Sabres
Sami Vatanen, Anaheim Ducks
Forwards:
Aleksander Barkov, Florida Panthers
Joonas Donskoi, San Jose Sharks
Valtteri Filppula, Tampa Bay Lightning
Mikael Granlund, Minnesota Wild
Jussi Jokinen, Florida Panthers
Mikko Koivu, Minnesota Wild
Leo Komarov, Toronto Maple Leafs
Lauri Korpikoski, Edmonton Oilers
Jori Lehtera, St. Louis Blues
Teuvo Teravainen, Chicago Blackhawks
Head Coach:
Lauri Marjamaki
Russia
Goaltenders:
Sergei Bobrovsky, Columbus Blue Jackets
Semyon Varlamov, Colorado Avalanche
Andrei Vasilevskiy, Tampa Bay Lightning
Defensemen:
Dmitry Kulikov, Florida Panthers
Andrei Markov, Montreal Canadiens
Dmitry Orlov, Washington Capitals
Forwards:
Artem Anisimov, Chicago Blackhawks
Pavel Datsyuk, Detroit Red Wings
Nikita Kucherov, Tampa Bay Lightning
Nikolay Kulemin, New York Islanders
Evgeny Kuznetsov, Washington Capitals
Evgeni Malkin, Pittsburgh Penguins
Vladislav Namestnikov, Tampa Bay Lightning
Alex Ovechkin, Washington Capitals
Artemi Panarin, Chicago Blackhawks
Vladimir Tarasenko, St. Louis Blues
Head Coach:
Oleg Znarok
Team Europe
Goaltenders:
Frederik Andersen, DEN, Anaheim Ducks
Jaroslav Halak, SVK, New York Islanders
Defensemen:
Zdeno Chara, SVK, Boston Bruins
Roman Josi, SUI, Nashville Predators
Dennis Seidenberg, GER, Boston Bruins
Andrej Sekera, SVK, Edmonton Oilers
Mark Streit, SUI, Philadelphia Flyers
Forwards:
Mikkel Bodker, DEN, Colorado Avalanche
Leon Draisaitl, GER, Edmonton Oilers
Jannik Hansen, DEN, Vancouver Canucks
Marian Hossa, SVK, Chicago Blackhawks
Anze Kopitar, SLO, Los Angeles Kings
Frans Nielsen, DEN, New York Islanders
Tomas Tatar, SVK, Detroit Red Wings
Thomas Vanek, AUT, Minnesota Wild
Mats Zuccarello, NOR, New York Rangers
Head Coach:
Ralph Krueger
Team North America
Goaltenders:
John Gibson, Anaheim Ducks
Connor Hellebuyck, Manitoba Moose - Winnipeg Jets hold NHL rights
Matt Murray, Pittsburgh Penguins
Defencemen:
Aaron Ekblad, Florida Panthers
Seth Jones, Columbus Blue Jackets
Ryan Murray, Columbus Blue Jackets
Morgan Rielly, Toronto Maple Leafs
Forwards:
Sean Couturier, Philadelphia Flyers
Jack Eichel, Buffalo Sabres
Johnny Gaudreau, Calgary Flames
Dylan Larkin, Detroit Red Wings
Nathan MacKinnon, Colorado Avalanche
Connor McDavid, Edmonton Oilers
J.T. Miller, New York Rangers
Sean Monahan, Calgary Flames
Brandon Saad, Columbus Blue Jackets
Head Coach:
Todd McLellan