Russian & US anthems confused by South Koreans at speed skating championship in Seoul (VIDEO)
Published time: 29 Feb, 2016 18:50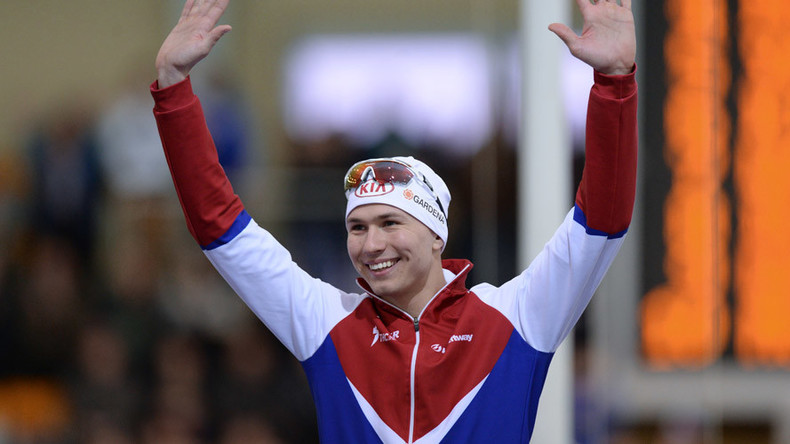 Having snatched the gold medal in speed skating in Seoul, Russia's Pavel Kulizhnikov was played US anthem. The awkward moment lasted only seconds and brought a smile to the athlete's face. Russian sports officials are not taking it as easily though
Kulizhnikov stood with his medal – joined on either side by the Netherlands' Kjeld Nuis and Kai Verbij – at the ISU World Sprint Speed Skating Championships in Seoul on February 28. Ready to hear the familiar notes of the Russian national anthem, Kulizhnikov instead heard about four or five seconds from the American one.
The person in charge of the music apparently quickly realized their mistake, before stopping it in favor of the correct tune.
TASS heard a statement from South Korea's ice skating association spokesman, who admitted to the mishap, but confirmed that the mistake lasted for only a few seconds, before the correct tune was played.
"We offer our sincere apologies for this technical error," he added. Russia's sports minister Vitaly Mutko issued his own statement, saying that the incident will not go unnoticed.
"This is not the first time this has happened. We will likely be notifying the international federation. Our own representatives must also do their job and pay attention to these things. This is negligence by the organizers, some people simply can't act in a responsible manner. Don't wish to say this is deliberate," Mutko said, adding that people have really taken on a lax attitude in the sports tournament world.
Another time a mishap with the anthem happened was in Las Vegas, less than a year ago, when Russia took gold again –this time in wrestling, and the US played the old anthem for about 30 seconds, before finding the correct song.