Pacquiao apologizes for gay slur
Published time: 17 Feb, 2016 14:44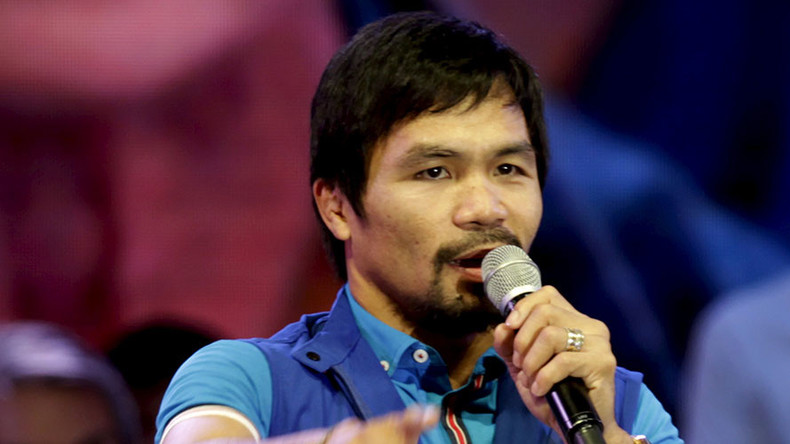 Boxing legend Manny Pacquiao has apologized after facing criticism for comments he made about homosexuals.
The former world champion, who is currently pursuing a career in politics, described homosexuals as being "worse than animals" during a TV interview.
"It's common sense - will you see any animals where male is to male and female is to female?" he said.
"The animals are better. They know how to distinguish male from female. If we approve of male on male, female on female, then man is worse than animals."
Pacquiao tried to defuse the row on his Facebook page, saying he was against gay marriage but was "not condemning LGBT."
However, he appeared to support his stance on Instagram by posting: "I rather obey the Lord's command than obeying the desires of the flesh."
"I'm not condemning anyone, but I'm just telling the truth of what the Bible says."
Filipino comedian Vice Ganda and singer Aiza Seguerra, who are both openly gay, criticized Pacquiao for his comments, calling him a "hypocrite" and a "false prophet."
Local gay rights political group Ladlad also waded into the row, saying Pacquiao's view "betrays a shallow understanding of sexual orientation and gender identity" and that his failure to understand gay rights issues would leave the boxer in the dark ages "when the cavemen ruled and the numbskulls roamed the Earth."
Social media users also voiced their anger at Pacquiao's comments.
Pacquiao, hear the deafening silence on the day of your fight. May it remind you that the "animals" you refer to cheered the loudest for you

— Irish Christianne (@IrishDDizon) February 17, 2016
Pacquiao, who is running for a seat in the Philippines senate in May's elections, has often spoken of his Christian faith, while many Filipinos hold similar views on gay rights because of their religion.
While some Christian followers gave their support to Pacquiao, his former boxing rival Floyd Mayweather took aim at him, saying "we should let people live their lives the way they want."