Premier League ticket prices row: Liverpool protests could spill over to Arsenal and others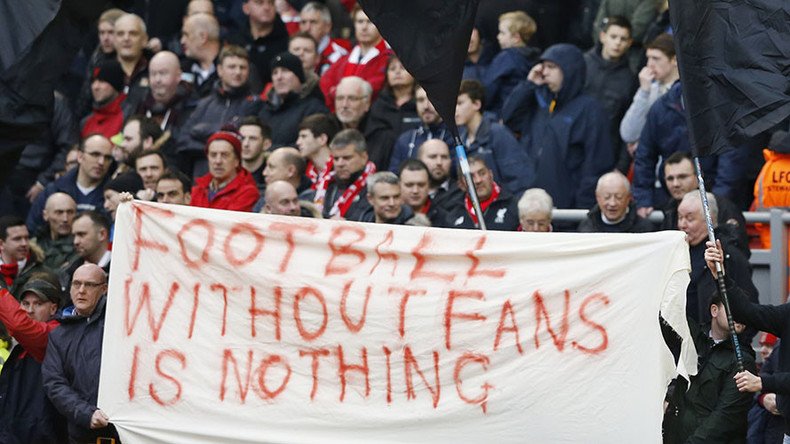 The protest by Liverpool fans against rising ticket prices during their recent game against Sunderland could trigger the start of an ugly battle between supporters and clubs across the Premier League.
Around 10,000 supporters exited Anfield at the weekend in protest at a price increase which would have seen the cost of some tickets rise from £59 to £77 ($85 to $110) per game, and season tickets priced above £1,000 ($1,400) for the first time.
Liverpool's owners have now scrapped the controversial idea and apologized for the "distress caused" by the planned move.
The club's most expensive ticket will now stay at £59, while the highest season ticket price has also been frozen.
Liverpool's main owner John W Henry, chairman Tom Werner and Fenway Sports Group (FSG) president Mike Gordon published an open letter about the changes.
"The three of us have been particularly troubled by the perception that we don't care about our supporters, that we are greedy, and that we are attempting to extract personal profits at the club's expense," it said. "Quite the opposite is true."
"We believe we have demonstrated a willingness to listen carefully, reconsider our position, and act decisively.
"The unique and sacred relationship between Liverpool Football Club and its supporters has always been foremost in our minds. It represents the heartbeat of this extraordinary football club."
Former Liverpool captain Jamie Carragher had backed the protest: "It wasn't just Liverpool fans sticking up for themselves, it was Liverpool fans saying 'enough is enough' for every supporter across the land," he said.
The Football Supporters' Federation (FSF) has been lobbying Premier League clubs to cut their prices for several years.
Kevin Miles, the FSF chief executive, commented: "The FSF will be convening a meeting of representatives of supporters' organizations across the Premier League to discuss the next steps in the campaign.
"There are a number of options. The Liverpool walkout very successfully highlighted the whole issue of the affordability of football, and the clubs need to be made to listen."
With the likes of Manchester United, Chelsea and Arsenal recently rejecting a proposal for a £30 cap on away tickets, it appears fan concerns have been largely ignored as clubs continue to rake in the cash from broadcast deals and foreign investment.
Newcastle have agreed reciprocal pricing deals with West Brom, Swansea, Stoke, Southampton, Everton, Watford and West Ham, but the FSF are pressing for fairer pricing across the board.
Prices have sky-rocketed in England during the last 30 years. Liverpool's cheapest ticket in 1990, the last time they won a league title, was just £4, in comparison with £37 this season.
Their top-priced ticket remains cheaper than some of the London teams, with Arsenal charging £97 and West Ham £95. The Hammers also have the most expensive away ticket at £70.
Arsenal have joined Crystal Palace, Manchester United, Norwich, and Swansea in now freezing their season ticket prices.
Compared to prices at some of the top clubs in Europe, it's clear that English fans are getting a raw deal.
The most expensive season ticket at Arsenal costs over £2,000, but at Bayern Munich fans pay £105, while Barcelona charge less than £74 – although a membership fee of £130 is also required.
With Premier League clubs set to benefit from their new £5.136 billion broadcast deal with Sky TV from the start of next season, Carragher says it's time for the fans to be given a fair deal.
He said: "Can you imagine how good the exposure for the Premier League would be if the teams came out and said every ticket at every stadium was being frozen?
"Not one of those 20 teams next season will be able to claim that they need the money. But the fans? They deserve to be looked after. They deserve to be treated fairly."
The Premier League have acknowledged that ticket prices are a problem and have pledged to take action: "There is absolute agreement from the 20 clubs that something needs to be done to help away fans with costs," a spokesman said.
"At the moment there is not a consensus on what form that help will take. That is what we are working on, but it is going to be something meaningful for the start of next season."
Whether every club agrees to act remains to be seen, but the situation at Liverpool is unlikely to be an isolated event if they don't.
You can share this story on social media: