Borussia Dortmund fans hurl tennis balls onto pitch in ticket price protest (VIDEO)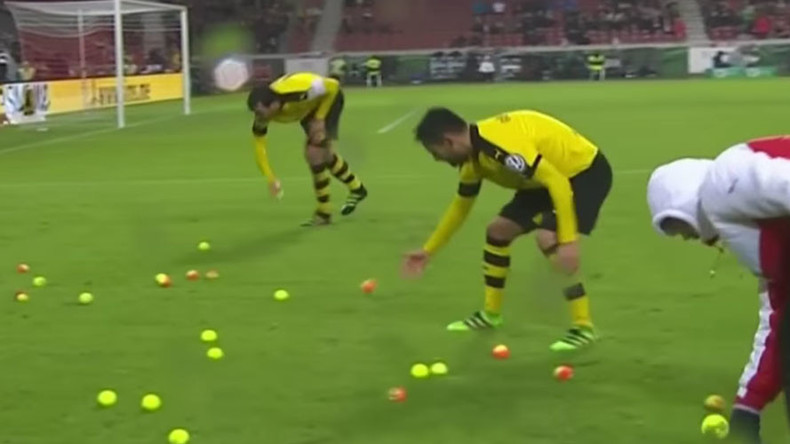 Fans from German football team Borussia Dortmund threw tennis balls onto the pitch in protest at ticket prices during their team's cup match away at VfB Stuttgart yesterday.
Dortmund supporters were unhappy that a quarter of away tickets for the game cost €70 (US$78) – a price they felt was unfairly high.
Many Dortmund fans also chose to skip the first 20 minutes of the game, leaving seats empty as a sign of their increasing frustration at ticket prices.
Dortmund won the game 3-1, thanks to goals from Marco Reus, Pierre-Emerick Aubameyang, and Henrikh Mkhitaryan.
The result means the side will progress to the semi-finals of the competition, but the focus was as much on the protest as on the football.
The fans chose tennis balls for their gesture as Germans often use the phrase "great tennis" to mean something is very good.
In this case, it was very much meant ironically.
The Dortmund supporters' actions came days after thousands of Liverpool fans in the English Premier League left 20 minutes before the end of their game against Sunderland at Anfield on Saturday. They staged a walkout in the 77th minute of the game in protest at the £77 ticket price ($111) for the top-priced tickets in the new main stand next season.
The protest may have affected the team – Liverpool were winning 2-0 at the time fans chose to leave, but ended up drawing 2-2 after two late Sunderland goals.
UK Prime Minister David Cameron even weighed into the debate today. When asked about ticket prices during a parliamentary session, he said: "I think there is a problem here where… some clubs put up prices [for fans] very rapidly every year, even though so much of the money for football actually comes through the sponsorship and the equipment and other sources."
The PM said he would "look carefully" at a suggestion that fans be given a place in club boardrooms, so that they can air their views on issues affecting supporters.
You can share this story on social media: