NBA All-Star lineup revealed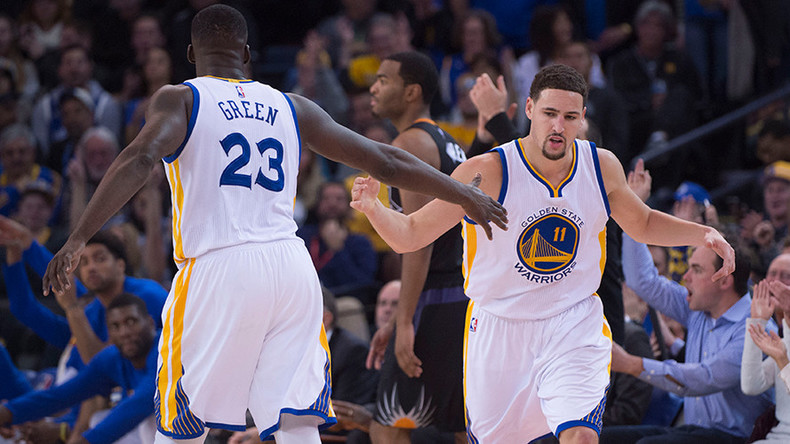 Golden State Warriors' stellar season was recognized on Thursday, with Draymond Green and Klay Thompson confirmed as reserves for the upcoming NBA All-Star game.
The pair join reigning MVP Stephen Curry in the Western Conference squad, giving the Warriors three All-Stars for the first time since 1976.
Green, whose mother told him on live TV he'd been selected, commented: "It's definitely something I could've never imagined happening. It's been a lifelong dream of mine to one day see that happen, but I could never imagine it happening like this."
Houston Rockets' James Harden, DeMarcus Cousins of the Sacramento Kings and San Antonio Spurs star LaMarcus Aldridge also made Gregg Popovic's team, with Chris Paul (Los Angeles Clippers) and Anthony Davis (New Orleans Pelicans) completing the list.
Curry, Russell Westbrook, Kobe Bryant, Kevin Durant and Kawhi Leonard were announced as the West's starters earlier this month, with Dwyane Wade, Kyle Lowry, LeBron James, Paul George and Carmelo Anthony lining up for the East.
Andre Drummond of the Detroit Pistons was the top pick for the Eastern Conference coaches, with Toronto Raptors' DeMar DeRozan and Jimmy Butler of the Chicago Bulls joining him as reserves for Coach Tyronn Lue's team.
DeRozan, who has battled back from a serious groin injury, said: "Words can't explain it, especially with the rough time I had last year, going down with the injury."
"But everything is a process. Nothing was ever given to me. I had to work for every single thing I accomplished, individually and team-wise. It was rough, but I think that's made me into the person and player I am today."
Paul Millsap (Atlanta Hawks), Chris Bosh (Miami Heat), John Wall (Washington Wizards) and Isaiah Thomas (Boston Celtics) make up the rest of the Eastern reserves.
Notable exclusions include Dallas Mavericks' Dirk Nowitzki and Tim Duncan of San Antonio Spurs.
Nowitzki is still a force to be reckoned with after an 18-year career. He still leads Mavericks' scoring with an average of 17.6 points per game, while Duncan might have a case to argue he's as worthy of a nostalgia pick as Bryant given that both have won five NBA championships during their careers.
You can share this story on social media: